Nakkali Nani By Rajesh Lama Feat. Mala Limbu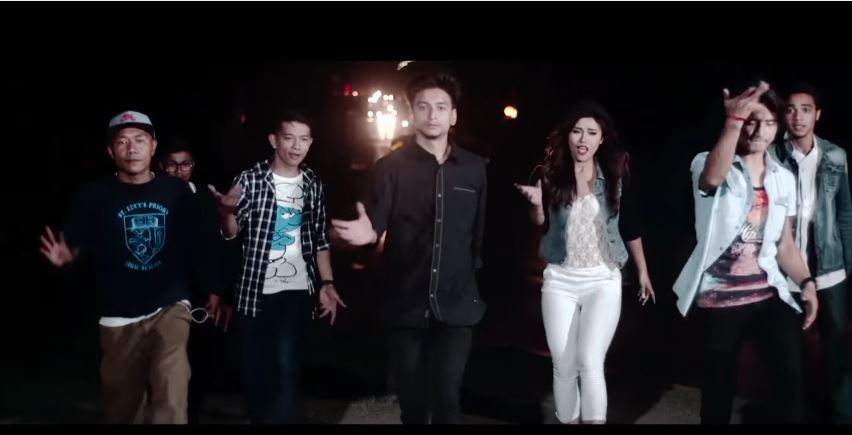 Nakkali Nani is a New Superhit Nepali pop song by Rajesh Lama. The music video features are Mala Limbu and NHF Crew. Nakkali nani is a Nepali song by Rajesh Lama which is directed by Nikesh Khadka. The music video of this song Nakkali nani is edited by Jeevan Thapa.
The music of this song is composed by Kalyan Singh and lyrics of this song is given by Yaman Subedi. Nakkali nani music video is Choreographed by Jenisha (NHF Crew). When you once listen this song, I am sure you will keep repeating it. In this song, The boyes of the music video are attracted towards the Nakkali nani (Mala Limbu).
The music video is released officially online by SongsNepal via Youtube. Hope that you will enjoy this pop Song Nakkali nani.
Here is the lyrics for the song:
Chaubandi choli
Lagauli boli
Nakai ma bulakii
Indrini fariya
Bokai bhariya
Audaicha hulaki

Chaubandi choli
Lagauli boli
Nakai ma bulakii
Indrini fariya
Bokai bhariya
Audaicha hulaki
Ho nakali nani sakali bani
Malai cholimai alghai deau
Banae jantar lagai mantar
Ajai pirati baljhaideau
Ajae pirati baljhaideau
Ajae pirati baljhaideau
Ajae pirati baljhaideau
Ajae pirati baljhaideau…

Mustang ko seau
Kinera leau
Kataula kardha le
Navannu vare
Puraunu hare
Boleko marda le
Mustang ko seau
Kinera leau
Kataula kardhale
Navannu vare
Puraunu hare
Boleko marda le
Ghagrii ko pani
Adha jawanii
Chalkela chalkela
Phadheri rugane
Akhai le thugane
Yo manche palkela
Ho nakali nani sakali bani
Malai choli ma aljaideau
Banai jantar lagai mantar
Ajai pirati baljhaideau
Ajae pirati baljhaideau
Ajae pirati baljhaideau
Ajae pirati baljhaideau
Ajae pirati baljhaideau…

Na pap dharma
Na kunai sarma
Bolai suselii
Na gham timi
Na jhun timi
Tai pani aujhelii
Na pap dharma
Na kunai sarma
Bolai suselii
Na gham timi
Na jhun timi
Tai pani aujheliu
Maya ko dhago
Chudina lago
Sustari baati deau
Jokhana heri tarkelau feri
Pirati sati deau
Ho nakali nani sakali bani
Malai choli mai aljhai deau
Banai jantar lagai mantar
Ajhai pirati baljhaideau
Ajhai pirati baljhaideau
Ajhai pirati baljhaideau
Ajhai pirati baljhaideau
Ajhai pirati baljhaideau….
Ajae pirati baljhai deau