Namaskar Namaskar By Prijan Tarali, Melina Rai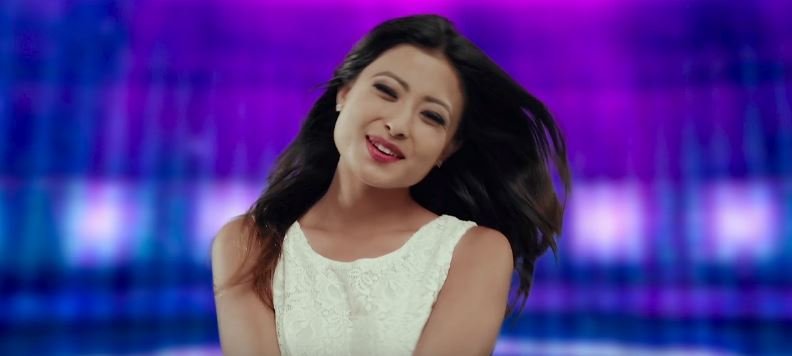 Namaskar Namaskar is a new Nepali modern pop song by Prijan Tarali and Melina Rai. The music video features Prijan Tarali and Kristina Thapa. Namaskar Namaskar is post production by Multimedia 4D. The music video was edited by Bikash Gyawali and was cinematographed by Tank KC.
The lyrics as well as music for the song was composed by Lok Nath Sapkota and music video was arranged by Rakesh Soni. The music video features hot and gorgeous model of Nepali entertainment industry, Kristina Thapa. She has done numerous aadhunik and romantic music video. She got invitation in shows in and out of Nepal because she is a good dancer. Namaskar Namaskar music video was presented by Prijan Kumar Tarali. When you once listen this song, I am sure you will keep tuning it.
The music video is released officially online by HighlightsNepal via Youtube. Hope that you will enjoy this romantic and melodious aadhunik song Namaskar Namaskar.
Here is the lyrics for Namaskar Namaskar:
Namaskar Namaskar
Mero yar Namaskar

Namaskar Namaskar
Mero yar Namaskar
haa Namaskar Namaskar
Mero yar Namaskar
Namaskar Namaskar
Mero yar Namaskar

Chulabula baani ani
Naagina ko chala
Namaskar Namaskar
Mero yar Namaskar
Chulabula baani ani
Naagina ko chala
Chulabula baani ani
Naagina ko chala
Jhayapai pari angalo
Ma kasi diuki
Yar yar yar yar
Ha Namas Ha Namas
Namaskar Namaskar
Mero yar Namaskar
Namaskar Namaskar
Mero yar Namaskar

Swabhimani sira ani
Himal sari rupa
Namaskar Namaskar
Mero yar Namaskar
Swabhimani sira ani
Himal sari rupa
Swabhimani sira ani
Himal sari rupa
Tai rupa ma paryo mero
Najar ko tal tal
Ha Namas Ha Namas
Namaskar Namaskar
Mero yar Namaskar
Namaskar Namaskar
Mero yar Namaskar….

Chandra ma nai hau ki
Timi purnima ko juna
Namaskar Namaskar
Mero yar Namaskar
Chandra ma nai hau ki
Timi purnima ko juna
Chandra ma nai hau ki
Timi purnima ki juna
Badal bani dhaki dinchu
Timro war par par par
Ha Namas Ha Namas
Namaskar Namaskar
Mero yar Namaskar
Namaskar Namaskar
Mero yar Namaskar….

Timro niyano angalo ma
Bachan Nachana paye
Namaskar Namaskar
Mero yar Namaskar
Timro niyano angalo ma
Bachan Nachana paye
Timro niyano angalo ma
Bachan Nachana paye
Huncha bhani dinchu
Jindagani dinchu aba
Uphar har har
Ha Namas Ha Namas
Namaskar Namaskar
Mero yar Namaskar
Namaskar Namaskar
Mero yar Namaskar….

Meri radha timro krishna
Chayo hamro lila
Namaskar Namaskar
Mero yar Namaskar
Meri radha timro krishna
Chayo hamro lila
Meri radha timro krishna
Chayo hamro lila
Eklau ti hunu parcha
Hamro sansar sar sar
Ha Namas Ha Namas
Namaskar Namaskar
Mero yar Namaskar
Namaskar Namaskar
Mero yar Namaskar….

Lila ani manjhu jasto
Hamro safal jodhi
Namaskar Namaskar
Mero yar Namaskar
Lila ani manjhu jasto
Hamro safal jodhi
Lila ani manjhu jasto
Hamro safal jodhi
Yestai rahos kaliyuga
Timro mero satha sat sat
Ha Namas Ha Namas
Namaskar Namaskar
Mero yar Namaskar
Namaskar Namaskar
Mero yar Namaskar…………………