Oye Jhuma Jhumkawali by Pramod Kharel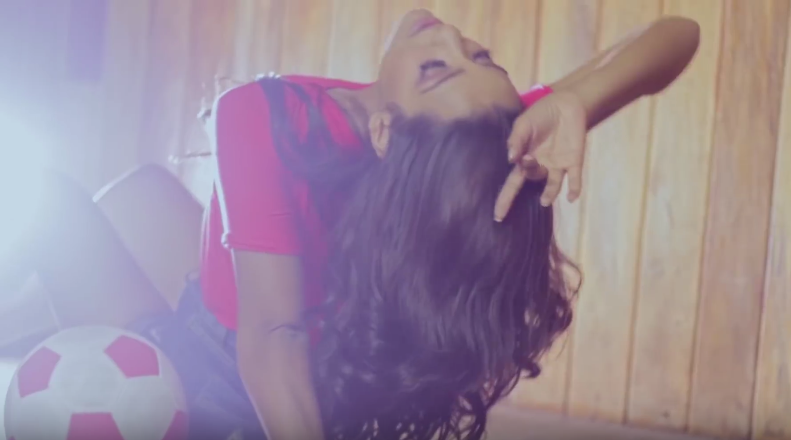 Oye Jhuma Jhumkawali is a popular Nepali pop song by talented singer Pramod Kharel. This spectacular video of the song is sported by talented actors and actress Priyanka Karki, Amir Sekh, Sudheer Khanal, Sujan Regmi, and Saurav. The video is directed and edited by Nitin chand. This music video is beautifully choreographed by Prashant Tamang. Nitin Chand is also the cameraman of this video.
The lyrics of the song Oye Jhuma is written by Shital Kadambini and the music is composed by Arjun Pokharel. The whole song enchants how beautiful the girl Jhuma is and the alluring youth of her. The music video features contemporary most happening model and actress Priyanka Karki opposite to Amir Shekh and his on-screen friends Sujan and Saurav. In the video Priyanka Karki (aka Jhuma) is shown a tough lady and Amir is seen trying to impress her with his moves and swag. She is even seen physically strong, competitive and not-so-easy kind of girl in the video.
The video is officially released online by Singer Pramod Kharel via YouTube. Do watch the video from here:
The lyrics of the song Jhuma Jhumkawali is given below:
Oye Jhuma, Oye Jhuma
Oye Jhuma, jhumkawaali
Oye Jhuma, Oye Jhuma
Oye Jhuma, jhumkawaali
Oye Jhuma, Oye Jhuma
Oye Jhuma, jhumkawaali

Rupko batti baldai aayin,
Jhuma jhumkawaali
Oye Jhuma, Oye Jhuma
Oye Jhuma, jhumkawaali
Hera hera chadna thalin
Hera hera chadna thalin
Baisako ukali
Oye Jhuma, Oye Jhuma
Oye Jhuma, jhumkawaali
Oye Jhuma, Jhuma Jhuma
Oye Jhuma, jhumkawaali

Chadhnu parne dherai holan
Sana thula thumka haru
Chadhnu parne dherai holan
Sana thula thumka haru
Jatan gari hidnu sadhai,
Haraulan jhumka haru
Timi pani thumkali hau,
Mai pani thumkali…

Oye Jhuma, Oye Jhuma
Oye Jhuma, jhumkawaali
Oye Jhuma, Oye Jhuma
Oye Jhuma, jhumkawaali
Oye Jhuma, Oye Jhuma
Oye Jhuma, jhumkawaali

Gharbuna ko pachhyauri tyo,
Makhamali buttecholi
Gharbuna ko pachhyauri tyo,
Makhamali buttecholi
Gharbuna ko pachhyauri tyo,
Makhamali buttecholi
Alikati maya deuna tyo manako
Dailo kholi
Yowanko chhano muni, piratiko pali
Oye Jhuma, Oye Jhuma
Oye Jhuma, jhumkawaali
Oye Jhuma, Oye Jhuma
Oye Jhuma, jhumkawaali

Aiseluko dana hera,
Ali ali pakna baki
Aiseluko dana hera,
Ali ali pakna baki
Khatto chha ki guliyo chha,
rahyo aba jachna baki
chhalkaudai othabhari,
bheri ra karnali
Oye Jhuma, Oye Jhuma
Oye Jhuma, jhumkawaali
Oye Jhuma, Oye Jhuma
Oye Jhuma, jhumkawaali
Oye Jhuma, Oye Jhuma
Oye Jhuma, jhumkawaali

Rupko batti baldai aayin,
Jhuma jhumkawaali
Hera hera chadna thalin
Hera hera chadna thalin
Baisako ukali
Oye Jhuma, Oye Jhuma
Oye Jhuma, Jhumkawaali
Oye Jhuma, Oye Jhuma
Oye Jhuma, Jhumkawaali
Oye Jhuma, Oye Jhuma
Oye Jhuma, Jhumkawaali
Oye Jhuma, Jhuma Jhuma,
Oye Jhuma, Jhumkawaali…