Parkhi Basa Priye by Pramod Kharel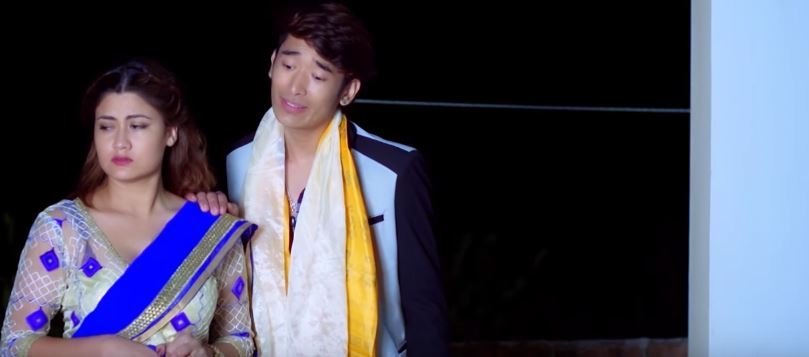 Parkhi Basa Priye is a new sentimental melodious Nepali song by Pramod Kharel. The music video features Prakash Ghising and Sampada Baniya. Parkhi Basa Priye is directed by Sisir Shrestha. The music video was edited by Amrit chapagain and was cinematographed by Mukesh Humagain.
The music for this song was composed by Raj Shukra Limbu and lyrics was written by Tej Tamang. The music video features versatile hot model Sampada Baniya. Sampada Baniya is a one of the established hot and sexy model of Nepali music video Industry. Pramod Kharel has added his melodious voice in this music video. The music video able to show the story of Nepalese youth who goes to foreign country for working by leaving their family alone. Parkhi Basa Priye music video was arranged byBabul Giri. When you once listen this song, I am sure you will keep repeating it.
The music video is released officially online by MANORANJAN NEPAL via Youtube. Hope that you will enjoy this melodious song Parkhi Basa Priye.
Here is the lyrics for Parkhi Basa Priye:
Parkhi Basa Priye timi
Pharki chadai auchu
Maela dhekhana sapani ma
Sadai timilai pauchu

Parkhi Basa Priye timi
Pharki chadai auchu
Maela dhekhana sapani ma
Sadai timilai pauchu
Harera thi din ma
Timrai yad ma hunchu
Timrai tasbir heri heri
Nidaune garchu
Timrai tasbir heri heri
Nidaune garchu
Parkhi Basa Priye timi
Pharki chadai auchu……

Timilai khusi dina lai
Ma pardeshi bhako chu
Eklai chodi tiha
Ma bidesh ako chhu

Timilai khusi dina lai
Ma pardeshi bhako chu
Eklai chodi tiha
Ma bidesh ako chhu
Timrai haat samayera
Duniyalai Herchu
Timrai haat samayera
Duniyalai Herchu
Timila satha chodau bhane
Ma ta galai hunchu
Antim sasha timrai nama
Lidai ma ta marchu
Sayad ma ta marchu
Parkhi Basa Priye timi
Pharki chadai auchu…..

Bachan diye priya timilai
bachan pura garchu ma
Bhumari ma chodi timilai
Kaha pari janchu ma

Bachan diye priya timilai
bachan pura garchu ma
Bhumari ma chodi timilai
Kaha pari janchu ma
Timrai lagi janme ko hu
Timrai lagi marchu
Timrai lagi janme ko hu
Timrai lagi marchu
Timilai ashu diye
Kasari ma hasu
Timro khali siudo bhari
Mero ghara lagchu
Mero ghara lagchu
Parkhi Basa Priye timi
Pharki chadai auchu……