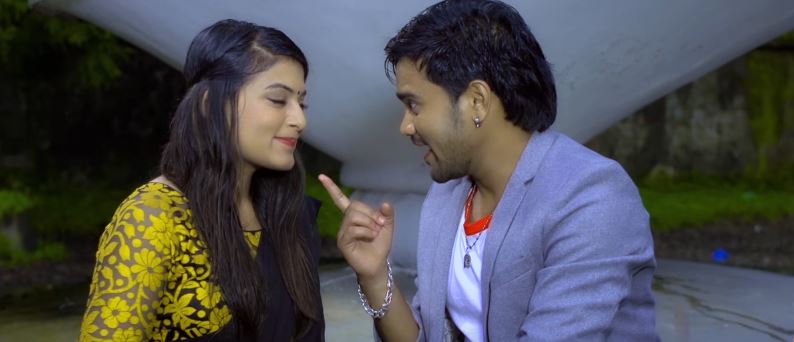 Phool Sari is a new aadhunik Nepali song from album "Prasnaharu". This music video features Silpa Pokharel & Sanam Kathayat. Phool Sari is a sentimental song by Anju Panta which was cinematographed by Suresh Shrestha and edited by Milan BK. Raj Kafle has directed this beautiful melodious video song.
The music for this music video was done by Raj Kumar Bagar and lyrics for this song was written by Dhanbir Pun. Phool Sari is a music video that stars two of the models and actors Silpa Pokharel & Sanam Kathayat. The story in this music video is about a fake love where no one has notices the tear, sadness, pain and mistake of Silpa Pokharel. The person who she love more hasn't understand her love. From this lesson she know how to leave with the pain. I'm sure you will love this song and tune repeatedly, once you listen to it.
This music video is officially released online by Music Nepal via YouTube. Hope you guys will enjoy this melodious song Phool Sari.

Here is the lyrics for Phool Sari:
Phool sari phoolne rahar
Gayo mann bhatri mari

Phool sari phool ne rahar
Gayo mann bhatri mari
Kati dukhachha mann ko ghau yo
Kati dukhachha mann ko ghau yo
Dekhau kasari dekhau kasari
Phool sari phoolne rahar
Gayo mann bhatri mari
Phool sari phoolne rahar
Gayo mann bhatri mari…….

Phool theyo hola jiban mero
Timile sath diye

Phool theyo hola jiban mero
Timile sath diye
Huntheya khushi ladna lagda
Huntheya khushi ladna lagda
Timile haat diya
Timile haat diya
Jun sari dulne rahar
Gayo tara sari jari
Kati dukhachha mann ko ghau yo
Kati dukhachha mann ko ghau yo
Dekhau kasari dekhau kasari
Phool sari phoolne rahar
Gayo mann bhatri mari
Phool sari phoolne rahar
Gayo mann bhatri mari…..

Rojhe jasto jindagi ta
Kasko hunchha hola

Rojhe jasto jindagi ta
Kasko hunchha hola
Khojhe jasto na huda mann
Khojhe jasto na huda mann
Sabako runchha hola
Sabako runchha hola
Gham sari khulne rahar
Dubyo bhelai ma pari
Kati dukhachha mann ko ghau yo
Kati dukhachha mann ko ghau yo
Dekhau kasari dekhau kasari
Phool sari phoolne rahar
Gayo mann bhatri mari
Phool sari phoolne rahar
Gayo mann bhatri mari….. ………