Roop Ko Nashale by Nisha Limbu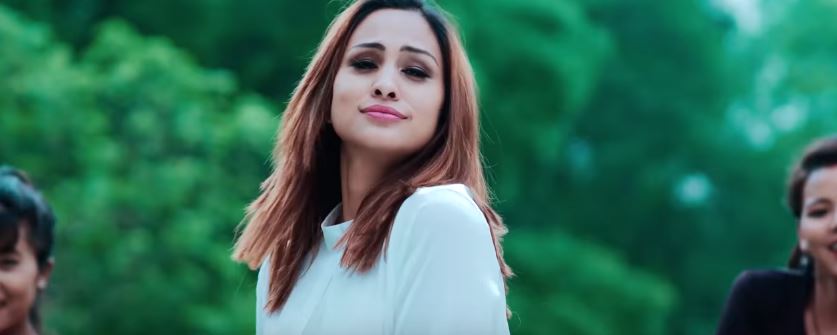 Roop Ko Nashale is a new aadhunik pop song by Nisha Limbu. The music video features Anu Shah and Suraj Karki. Roop Ko Nashale is a Nepali song by Nisha Limbu which is directed by Bhuwan Syanbo Tamang. The music video was edited by Mandil Shrestha and Cinematographed by Utsav Dahal.
The music for this song was composed by Bikash Chaudhary and lyrics was written by B.B. Thapa. The music video features versatile actress Anu Shah with a new looks. Anu Shah has established herself as a successful model who has played the lead role in this video. As we know that, The most beautiful face is face with a smile. In this music video, the cute and smiley face of Suraj Karki attract the heart of beautiful lady Anu shah. It is all about the love story song. When you once listen this song, I am sure you will keep repeating it.
The music video is released officially online by songsNepal via Youtube. Hope that you will enjoy this melodious pop song Roop Ko Nashale.

Here is the lyrics for Roop Ko Nashale:
Roop Ko Nashale ho ki
Ya urlado jawani le

Roop Ko Nashale ho ki
Ya urlado jawani le
Hajura ko esara pauda
Bhaye saram le paani
Hajura ko esara pauda
Bhaye saram le paani
Roop Ko Nashale ho ki
Ya urlado jawani le…..

Kasari ek najae ma hak
Jamauna lagyau mann ma

Kasari ek najae ma hak
Jamauna lagyau mann ma
Preyatam bhanera mero
Aauna ho ki jiban ma
Preyatam bhanera mero
Aauna ho ki jiban ma
Chahani aru ko vid ma
Yo begalai china jaani
Hajura ko esara pauda
Bhaye saram le paani
Hajura ko esara pauda
Bhaye saram le paani
Roop Ko Nashale ho ki
Ya urlado jawani le…….

Dil ki rani bhanera
Sadai bhari Piyar diula

hooo Dil ki rani bhanera
Sadai bhari Piyar diula
Ma saga hasne khelna
Sara adhikar diula
Yo jawani hajura lai
Mero maya ko nisani
Hajura ko esara pauda
Bhaye saram le paani
Hajura ko esara pauda
Bhaye saram le paani
Roop Ko Nashale ho ki
Ya urlado jawani le

Roop Ko Nashale ho ki
Ya urlado jawani le
Hajura ko esara pauda
Bhaye saram le paani
Hajura ko esara pauda
Bhaye saram le paani
Roop Ko Nashale ho ki
Ya urlado jawani le…………