Royal Enfield Classic 500 Review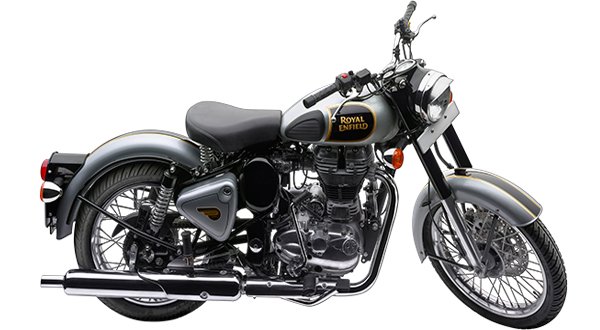 The Royal Enfield Classic 500 is a high-end motorcycle produced and marketed by Royal Enfield, a popular Indian two-wheeler manufacturer. The Royal Enfield 500 was launched in the year along with young brother the Classic 350. The company has also made some notable changes in the new gen Classic 500.
The Royal Enfield Classic though is the elder brother of the Classic 350, is shorter than it having height of 1050 mm and also is 2130 mm long. Also, the bike is 790 mm wide having the weight of 190 kg. Besides, the front wheel maintains the gap of 1370 mm from the rear wheel and the bike is 140 mm far from the ground.
Moreover, the Classic 500 is equipped with 4 stroke, air cooled, spark ignition, single cylinder engine. The particular engine featured in the bike is capable of producing maximum power of 27.2 bhp and maximum torque of 41.3 Nm along with displacement of 499 cc.
Furthermore, Dugar Automobiles Private Limited has been importing the various variants of Royal Enfield Classic 500 in Nepal and their prices also vary on the basis of the specs and colors.
Price in Nepal: Rs. 5,41,000 (Classic 500),
Rs. 5,61,000 (Classic Battle Green),
Rs. 5,81,000 (Classic Chrome),
Rs. 5,61,000 (Classic Desert Storm)
Dimension:
| | | | | |
| --- | --- | --- | --- | --- |
|  Category |  Royal Enfield Classic 500 |  Royal Enfield Classic Battle Green |  Royal Enfield Classic Chrome |  Royal Enfield Classic Desert Storm |
|  Body Type |  Cruiser |  Cruiser |  Cruiser |  Cruiser |
|  Weight |  190 kg |  187 kg |  187 kg |  187 kg |
|  Length |  2130 mm |  2160 mm |  2130 mm |  2130 mm |
|  Height |  1050 mm |  1050 mm |  1050 mm |  1050 mm |
|  Width |  790 mm |  800 mm |  800 mm |  800 mm |
|  Wheelbase |  1360 mm |  1370 mm |  1370 mm |  1370 mm |
|  Ground Clearance |  140 mm |  135 mm |  140 mm |  140 mm |
Engine:
| | | | | |
| --- | --- | --- | --- | --- |
|  Category |  Royal Enfield Classic 500 |  Royal Enfield Classic Battle Green |  Royal Enfield Classic Chrome |  Royal Enfield Classic Desert Storm |
|  Fuel |  13.5 liters |  14.5 liters |  13.5 liters |  13.5 liters |
|  Engine Type |  4 Stroke, Spark Ignition, Air Cooled, Single Cylinder |  Single Cylinder, 4 Stroke |  Single Cylinder, 4 Stroke |  Single Cylinder, 4 Stroke |
|  Maximum Power |  27.2 bhp @ 5250 RPM |  27.2 bhp |  27 bhp |  27 bhp |
|  Maximum Torque |  41.3 Nm |  41.3 Nm |  41.3 Nm |  41.3 Nm |
|  Displacement |  499 cc |  499 cc |  499 cc |  499 cc |
|  Box X Stroke |  84 x 90 mm |  84 x 90 mm |  84 x 90 mm |  84 x 90 mm |
|  Starting System |  Electronic Ignition |  Electronic Ignition |  Electronic Ignition |  Electronic Ignition |
|  Final Drive |  NA |  NA |  NA |  NA |
Suspension:
| | | | | |
| --- | --- | --- | --- | --- |
|  Category |  Royal Enfield Classic 500 |  Royal Enfield Classic Battle Green |  Royal Enfield Classic Chrome |  Royal Enfield Classic Desert Storm |
|  Front Suspension |  Telescopic, hydraulic damping, stroke 130 mm |  Telescopic, 35 mm forks, 130 mm travel |  Telescopic, hydraulic damping, stroke 130 mm |  Telescopic, hydraulic damping, stroke 130 mm |
|  Rear Suspension |  Swing arm with gas shock absorber, stroke 80 mm |  Twin gas charged shock absorber with 5-step adjustable pre-load, 80 mm travel |  Swing arm with gas shock absorber, stroke 80 mm |  Swing arm with gas shock absorber, stroke 80 mm |
|  Front Tyre |  90/90 x 19 inches |  90/90-18 |  90/90 x 19 inches |  90/90 x 19 inches |
| Rear Tyre |  120/80 x 18 inches |  110/80-18 |  120/80 x 18 inches |  120/80 x 18 inches |
Brakes:
| | | | | |
| --- | --- | --- | --- | --- |
|  Category |  Royal Enfield Classic 500 |  Royal Enfield Classic Battle Green |  Royal Enfield Classic Chrome |  Royal Enfield Classic Desert Storm |
|  Front Brake |  Disc |  Disc |  Disc |  Disc |
|  Rear Brake |  Drum |  Drum |  Drum |  Drum |
Transmission:
| | | | | |
| --- | --- | --- | --- | --- |
|  Category |  Royal Enfield Classic 500 |  Royal Enfield Classic Battle Green |  Royal Enfield Classic Chrome |  Royal Enfield Classic Desert Storm |
|  Transmission |  Manual |  Manual |  Manual |  Manual |
|  No. of Gears |  5 |  5 |  5 |  5 |
|  Clutch |  Wet, Multi-plate |  Wet, Multi-plate |  Wet, Multi-plate |  Wet, Multi-plate |