Sajauchhu Yeshu Tapai Lai by Anju Panta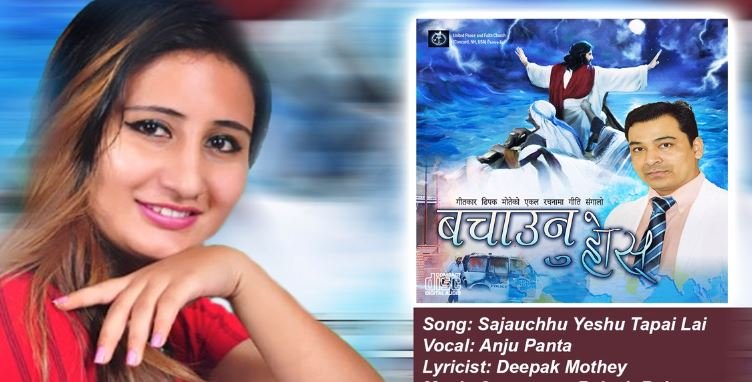 Sajauchhu Yeshu Tapai Lai is a new Nepali song from album "Bachaunuhos". Sajauchhu Yeshu Tapai Lai is a Nepali song by Anju Panta. This music video is just a simple audio version during the recording of the song.
The music for this song is composed by Rajesh Rai and lyrics was written by Deepak Mothey. Sajauchhu Yeshu Tapai Lai is praying song to the god Yeshu by Anju panta. She is one of the famous, talented and versatile singer of Nepal. Panta has given her voice in more than hundreds of hit songs. Her melodious voice adds flavor in every song she sings.  This is the one of the separate song of Anju Panta. here he was praying for the God Yeshu and has shown the importance of life. I am sure you will like repeating this song when you once listen to it.
This music video is officially released online by Christian Sansar via YouTube. Hope you guys will enjoy this melodious song Sajauchhu Yeshu Tapai Lai.
Here is the lyrics for Sajauchhu Yeshu Tapai Lai:
Sajauchhu Yeshu Tapai Lai
Yo aakha ko nani ma
Lukae rakhachu yeshu tapaelai
Yo mutu ko majha ma
Mero mukti daata
Yeshu raja lai
Sajauchhu Yeshu Tapai Lai
Yo aakha ko nani ma…..

Paani ko baf jhai
Udi jane yo jiban lai

Paani ko baf jhai
Udhi jane yo jiban lai
Badalu jhai udhi hinna
Yo pagal mann lai
Yeshu lai nai sumpidiye
Mero ridaya
Aba ha yeshu garnu ma ma raja
Aba ha yeshu garnu ma ma raja
Mero santi daata
Parbhu yeshu raja
Sajauchhu Yeshu Tapai Lai
Yo aakha ko nani ma…..

Jhari jane paat jhai
Mari jane yo jiban na

Jhari jane paat jhai
Mari jane yo jiban na
Bagna khola ko pani jhai
Asha hin manna
Yeshu ma mai amar jiban
Ani shanti paye
Bato satya rahar jiban
Yeshu ma paye
Bato satya rahar jiban
Yeshu ma paye
Mero udar karta
Yeshu mai paye
Sajhauchu yeshu tapae lai
Yo aakhako nani ma……………