Sakdina Timibina by Rubeen Sharma Ft. Etna Karki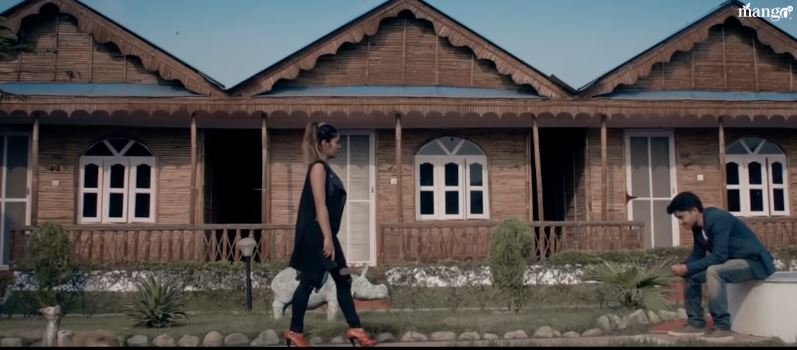 Sakdina Timibina is a New Aadhunik Sentimental Nepali Pop song by Rubeen Sharma. The music video features Etna Karki and Rubeen Sharma. Sakdina Timibina is a Nepali song by Rubeen Sharma which is directed by Bishnu Sharma. Sakdina Timibina music video was edited by Santanu Haldar.
Don't love a lover like a flower, Because a flower dies in season. Love them like a river, Because a river flows forever. Likewise, here Etna Karki loves Rubeen Sharma as a flower which makes more pain than happiness. The music video was arranged by Bishal Gurung & Rajesh Khadgi and lyrics of this song was composed by Rubeen Sharma himself.
The music video is released officially online by SongsNepal via Youtube. Hope that you will enjoy this Melodious  pop Song Sakdina Timibina.

Here is the lyrics for the song:
huuuuuuuu
Naaaa
Na na na
Mutu bhari
Maya diyatheyau
Aja khojhi rayachu ma
Timi saga bitayaka
Ti pal samjhi rayachu ma
Sakdina Timibina

Mutu bhari
Maya diyatheyau
Aja khojhi rayachu ma
Timi saga bitayaka
Ti pal samjhi rayachu ma
Sakdina Timibina
Sara Sansar lai
Tiyagara aja
Eklo vayachu ma
Timro maya ma
Yati dheri dhubachu ma
Aja timi au
Mero jiwan ma
Yesari timi na jau
Malae chodera
Aja timi au
Mero jiwan ma
Yesari timi na jau
Malae chodera…

Aja pheri timro
Yad la malae satayo
Timro maya la
Malae ruwayo
Sakidinama timi bina

Aja pheri timro
Yad la malae satayo
Timro maya la
Malae ruwayo
Sakidinama timi bina…

Tyo din theyo
Timi ra ma
Sadai bhari
Satha huntheyau
To pal theyo
Timro samu ma theya
Tara timila
Bhujhana sakinau
Aja timi au
Mero jiwan ma
Yesari timi na jau
Malae chodera
Aja timi au
Mero jiwan ma
Yesari timi na jau
Malae chodera…

Aja pheri timro
Yad la malae satayo
Timro maya la
Malae ruwayo
Sakidina ma timi bina

Aja pheri timro
Yad la malae satayo
Timro maya la
Malae ruwayo
Sakidina ma timi bina…