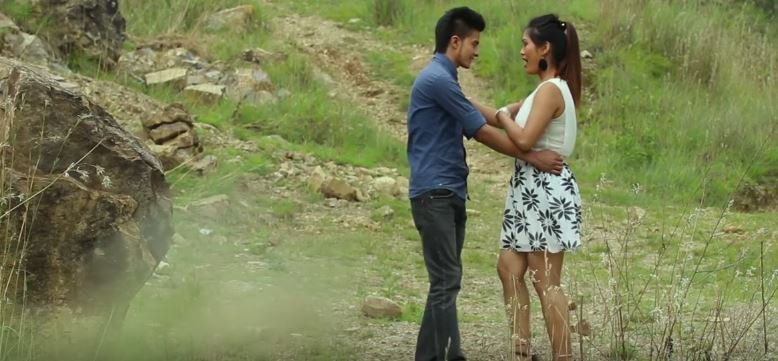 Sapanima is a new pop song from album "SAATH". The music video features Sugam, Dimple, Rabi and Laxmi. Sapanima is a pop song by Srijana KC which is directed by Angel Kasaju. The music video was cinematographed as well as edited by SG Gallery.
The lyrics for the song was written by Arun Tiwari and music was composed by Bikram Thapa. This music video features beautiful model Dimple and Laxmi and handsome and talented actor Sugam and Rabi. They have performed very well and make this music video touching. This music video was presented by Nepal Blaze Media Produciton House. When you once listen this song, I am sure you will keep tuning it.
The music video is released officially online by SongsNepal via Youtube. Hope that you will enjoy this melodious pop song Sapanima.
Here is the lyrics for Sapanima:
Sapanima dhekchhu
Timilai Sadai raat ma
Sapanima dhekchhu
Timilai Sadai raat ma
Harauna chahanchu ma
Timrai satha ma
Harauna chahanchu ma
Timrai satha ma…

Mutu bhari nasa bhari
Timro nai cha name
Mutu bhari nasa bhari
Timro nai cha name
Timi bina yasto lagcha
Mero k chha kam
Timi bina yasto lagcha
Mero k chha kam
Sapanima dhekchhu
Timilai Sadai raat ma
Sapanima dhekchhu
Timilai Sadai raat ma
Harauna chahanchhu ma
Timrai satha ma
Harauna chahanchhu ma
Timrai satha ma…

Duneyala dhaha garchan
Dhekhi harmo maya
Duneyala dhaha garchan
Dhekhi harmo maya
Juni bhari paye rahu
Timro seetal chaya
Juni bhari paye rahu
Timro seetal chaya
Sapanima dhekchhu
Timilai Sadai raat ma

Sapanima dhekchhu
Timilai Sadai raat ma
Harauna chahanchu ma
Timrai satha ma
Harauna chahanchu ma
Timrai satha ma
Timrai satha ma
Timrai satha ma
Timrai satha ma…………