Sindhuli Gadi (Audio) By Yogeshwor Amatya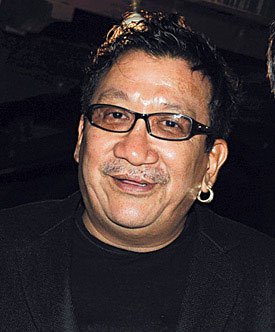 Sindhuli Gadi is a Nepali Pop song by Yogeshwor Amatya. This song express the beauty Sindhuli and also represents the main problem of Nepal that is unemployment. In this song he was one of the youth who went foreign to earn money.
Sindhuli Gadi is pop song by Yogeshwor which is romantic and informative. In this song we can see the flirty lyrics and music is well managed. You guys will really love this pop song. Yogeshwor is one of the well known and popular pop singer who gives lots of creations to the listeners. He is singer, musician, actor, producer, social activist and photographer. Amatya has been figure in Nepalese soft rock during the last two decades. This song is melodious and wonderful with the perfect selection of lyrics and musical combination with them. When you once listen this song, I am sure you will keep mouthing it.
The song is released officially online by Suraj Limbu via Youtube. Hope that you will enjoy this melodious song Sindhuli Gadi.
Here is the lyrics for the song Sindhuli Gadi:
Mero patipauwalai
Mero gaule saathilai
Farkadaichhu gaawaimaa
Farkadaichhu gaawaimaa
Farkadaichhu gaawaimaa

Alright..

Baisaimaa lahura pasepani
Baisaimaa lahura pasepani
Suntalimai aauchhu ma ta farkera
Maaryo ni mayale maaryo
Suntalimai aauchhu ma ta farkera
Maaryo ni mayale maaryo

Baisaimaa lahura pasepani
Baisaimaa lahura pasepani
Suntalimai aauchhu ma ta farkera
Maaryo ni mayale maaryo
Suntalimai aauchhu ma ta farkera
Maaryo ni mayale maaryo

Sorha barse umeraima
Sorha barse umeraima
Suntalimai ma pani jhilke hudo ho
Maaryo ni mayale maaryo
Suntalimai ma pani jhilke hudo ho
Maaryo ni mayale maaryo

Sorha barse umeraima
Sorha barse umeraima
Suntalimai ma pani jhilke hudo ho
Maaryo ni mayale maaryo
Suntalimai ma pani jhilke hudo ho
Maaryo ni mayale maaryo

Pareli jhimkyai maskera hidne
Pareli jhimkyai maskera hidne
Suntalimai baisama chhadaa chhadai
Maaryo ni mayale maaryo
Suntalimai baisama chhadaa chhadai
Maaryo ni mayale maaryo

Sindhuli gadhi ghumera hid-da
Sindhuli gadhi ghumera hid-da
Suntalimai katimaa ramro durbar
Maaryo ni mayale maaryo
Suntalimai katimaa ramro durbar
Maaryo ni mayale maaryo

Sindhuli gadhi ghumera hid-da
Sindhuli gadhi ghumera hid-da
Suntalimai katimaa ramro durbar
Maaryo ni mayale maaryo
Suntalimai katimaa ramro durbar
Maaryo ni mayale maaryo

Aajkaalako jovanmaa heri
Aajkaalako jovanmaa heri
Suntalimai kasle po dela daag batti
Maaryo ni mayale maaryo
Suntalimai kasle po dela daag batti
Maaryo ni mayale maaryo

Aajkaalako jovanmaa heri
Aajkaalako jovanmaa heri
Suntalimai kasle po dela daag batti
Maaryo ni mayale maaryo
Suntalimai kasle po dela daag batti
Maaryo ni mayale maaryo

Baisaimaa lahura pasepani
Baisaimaa lahura pasepani
Suntalimai aauchhu ma ta farkera
Maaryo ni mayale maaryo
Suntalimai aauchhu ma ta farkera
Maaryo ni mayale maaryo

Baisaimaa lahura pasepani
Baisaimaa lahura pasepani
Suntalimai aauchhu ma ta farkera
Maaryo ni mayale maaryo
Suntalimai aauchhu ma ta farkera
Maaryo ni mayale maaryo