Singh Is Bliing Review and Box Office Collections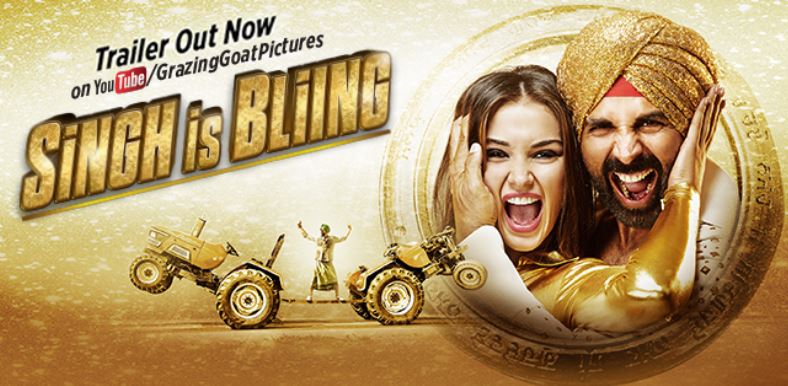 "Singh is Bliing" is the much awaited movie of Akshay Kumar, which brings him back in the role of a simple Sardar after the success of the 2008 movie "Singh is King". Once again, Akshay is cast as the loving simpleton Sardar in this movie, with Happy Singh being replaced by Raftaar Singh, while the female lead has the firang girl Amy Jackson replacing Katrina Kaif. Lara Datta also makes her comeback in this movie. Others in the star cast include Kay Kay Menon, Kunal Kapoor, Rati Agnihotri and Yograj Singh. "Singh is Bliing" has been directed by Prabhudeva, who is perhaps making an effort to undo the damage "Action Jackson" has done to his reputation.
The Plot
The film stars Akshay Kumar as a simple Punjabi lad Raftaar Singh, who adores his mother and does nothing else. Life goes this way until one day, his father packs him off to Goa to work in his friend's casino. Here, he meets his lady love Sara (Amy Jackson), who is being chased by the gangster called Mark (Kay Kay Menon) and Raftaar is supposed to play her chaperone. Since they have a language problem, with Sara not knowing Hindi and Raftaar not knowing English, Emily (Lara Dutta) steps in as a translator. The film is an out and out comedy with no plot at all, with men being beaten up and women running around for no feasible reason, but it is all about entertainment.
The Performances
"Singh is Bliing" is a total Akshay Kumar movie, with Akshay once again acing in the role of an innocent Sardar, while Amy Jackson gets enough screen time but does little in the name of acting and more about moving around in skimpy outfit. It is Lara Dutta who comes up as the surprise package in the movie, showing how good she can be at tickling the funny bone of the audience. She has given a brilliant performance and proved that she is an actress par excellence. Another sterling performance comes from Rati Agnihotri, who plays Akshay's mom, while the remaining star cast has not been too impressive in their performances. After the dismal fate of "Action Jackson", Prabhudeva was in need of making a decent comeback, which he has done considering the entertainment value of "Singh is Bliing". Though the movie has nothing much in the name of script and story, it is still a good watch if you are looking for a fair laugh.
Box Office Collection
"Singh is Bliing" hit the silver screen on 2nd October, 2015, at the beginning of a long weekend. Akshay Kumar and the Singh factor have come together yet again to make a big success out of a script less movie like "Singh is Bliing", which has churned out a phenomenal collection of Rs 68.1 crore at the domestic box office in just five days. Additionally, the overseas box office collection has accounted to Rs 16.5 crore in this time period, making it a big hit. The movie is soon going to make an entry into the 100 crore club.