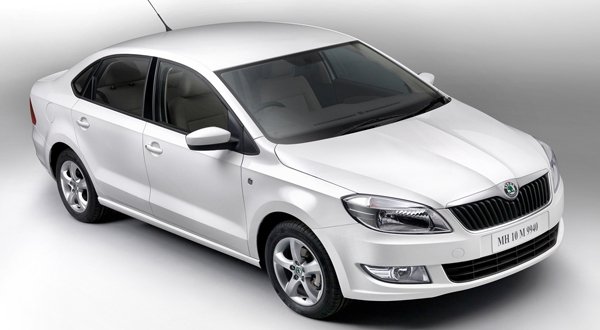 Manufactured by Czech Skoda in the year 2012, the Skoda Rapid is the compact sedan car. The name Rapid actually was used in the 1935 version of Skoda Rapid and 1984's Skoda Rapid Coupe car. Currently, the patch "Rapid" is being used in two various design; hatchback and a sedan manufacturing in Europe and India. The Skoda Rapid 2012 was officially launched at Paris Motor Show in the year 2012.
  The 2012 version of Skoda Rapid was the first car to be built under the new design developed by Skoda. The Skoda Rapid 2012 features the height and length of 1466 mm and 4386 mm respectively. Besides, the wheelbase of the car is of 2552 mm and the bottom framework is 168 mm away from the ground.
 Furthermore, Skoda has been exporting eight different varieties of Skoda Rapid in Nepal under the dealership of Skoda M.A.W.
Price in Nepal: Rs. 3,175,000 (For Rapid Active Plus Petrol),
Rs. 3,475,000 (For Rapid Ambition Plus Petrol),
Rs. 3,495,000 (For Active Plus Diesel),
Rs. 3,715,000 (For Rapid Ambition Plus Petrol A/T),
Rs. 3,795,000 (For Rapid Ambition Plus Diesel),
Rs. 3,895,000 (For Rapid Elegance Petrol A/T),
Rs. 4,095,000 (For Rapid Elegance Diesel),
Rs. 4,295,000 (For Rapid Elegance Petrol)
Specifications
Dimension:
| | |
| --- | --- |
|  Body Type |  Sedan |
|  Basic Weight |  1145 kg (Active Plus Petrol), 1180 kg (Ambition Plus Petrol / Ambition Plus Petrol A/T / Rapid Elegance Petrol A/T / Rapid Elegance Petrol), 1205 kg (Active Plus Diesel / Ambition Plus Diesel / Rapid Elegance Diesel) |
|  Length |  4386 mm |
|  Height |  1466 mm |
|  Wheelbase |  2552 mm |
|  Front Track |  NA |
|  Rear Track |  NA |
|  Ground Clearance |  168 mm |
Engine:
| | |
| --- | --- |
| Fuel Tank |  55 liters |
|  Cylinders |  4 |
|  Valves Per Cylinder |  4 (Active Plus Petrol / Ambition Plus Petrol / Ambition Plus Petrol A/T / Rapid Elegance Petrol A/T), 2 (Active Plus Diesel / Ambition Plus Diesel) |
|  Displacement |  1598 cc |
|  Max Power |  105 bhp (Active Plus Petrol), 103 bhp (Ambition Plus Petrol / Active Plus Diesel /  Ambition Plus Petrol A/T / Ambition Plus Diesel / Rapid Elegance Petrol A/T / Rapid Elegance Diesel / Rapid Elegance Petrol) |
|  Max Torque |  153 Nm (Active Plus Petrol / Ambition Plus Petrol / Ambition Plus Petrol A/T / Rapid Elegance Petrol A/T / Rapid Elegance Petrol), 250 Nm (Active Plus Diesel / Ambition Plus Diesel / Rapid Elegance Diesel) |
Dynamics:
| | |
| --- | --- |
| Front Brakes |  Disc |
| Rear Brakes |  Drum |
| Front Wheels |  NA |
| Rear Wheels |  NA |
| Front Suspensions |  McPherson Suspension with Lower Triangular Links and Torsion Stabilizer |
| Rear Suspensions |  Compound Link |
Transmission:
 Transmission

 Manual (Active Plus Petrol / Active Plus Diesel / Ambition Plus Diesel / Rapid Elegance Diesel / Rapid Elegance Petrol), Automatic (Ambition Plus Petrol / Ambition Plus Petrol A/T)

 Number of Gears

 5 (Active Plus Petrol / Ambition Plus Petrol / Active Plus Diesel / Ambition Plus Petrol A/T / Ambition Plus Diesel / Elegance Petrol A/T /
Elegance Petrol), 6 (Rapid Elegance Diesel)