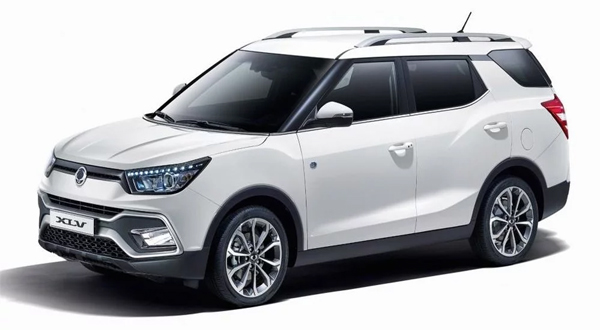 The Ssangyong XLV is SUV car manufactured by a South Korean multinational company Ssangoyng in the partnership with Indian manufacturer Mahindra and Mahindra. The XLV is also available in smaller size and is known as Ssangyong Tivoli. The XLV has got extra length of 245 mm at the rear which makes it a little longer than the original Tivoli.
Moreover, the Ssangyong XLV features height and length of 4440 mm and 1635 mm respectively. Further, the front wheels and rear wheels maintain the gap of 2600 mm and the lower chassis is 190 mm away from the earth.
Besides, Ssangyong has been exporting 5 different varieties of XLV in Nepal in its own dealer, Ssangyong IMS Motors.
Price in Nepal: Rs. 5,899,000 (For XLV MT Semi-Loaded),
Rs. 6,299,000 (For XLV AT Semi-Loaded),
Rs. 6,299,000 (For XLV MT Fully Loaded),
Rs. 6,799,000 (For XLV AT Fully Loaded w/ Sunroof),
Rs. 6,899,000 (For XLV AT Fully Loaded w/ 2 Tone)
Specifications
Dimension:
| | |
| --- | --- |
|  Body Type |  SUV |
|  Basic Weight |  1315 kg (XLV MT Semi-loaded / XLV MT Fully-loaded), 1345 kg (XLV AT Semi-loaded / XLV AT Fully-loaded w/ Sunroof / XLV AT Fully-loaded w/ 2 Tone) |
|  Length |   4440 mm |
|  Height |  1635 mm |
|  Wheelbase |  2600 mm |
|  Front Track |  NA |
|  Rear Track |  NA |
|  Ground Clearance |  190 mm |
Engine:
| | |
| --- | --- |
| Fuel Tank |  47 liters |
|  Cylinders |  4, Inline |
|  Valves Per Cylinder |  NA |
|  Displacement |  1597 cc |
|  Max Power |  126.2 bhp @ 6000 RPM |
|  Max Torque |  160 Nm @ 4600 RPM |
Dynamics:
| | |
| --- | --- |
| Front Brakes |  Ventilated Disc |
| Rear Brakes |  Disc |
| Front Wheels |  NA |
| Rear Wheels |  NA |
| Front Suspensions |  McPherson Strut |
| Rear Suspensions |  Multi-link |
Transmission:
| | |
| --- | --- |
|  Transmission |  Manual (XLV MT Semi-loaded / XLV MT Fully-loaded), Automatic (XLV AT Semi-loaded / XLV AT Fully-loaded w/ Sunroof / XLV AT Fully-loaded w/ 2 Tone) |
|  Number of Gears |  6 |