Sukomal Sharir by Jhalak Sangroula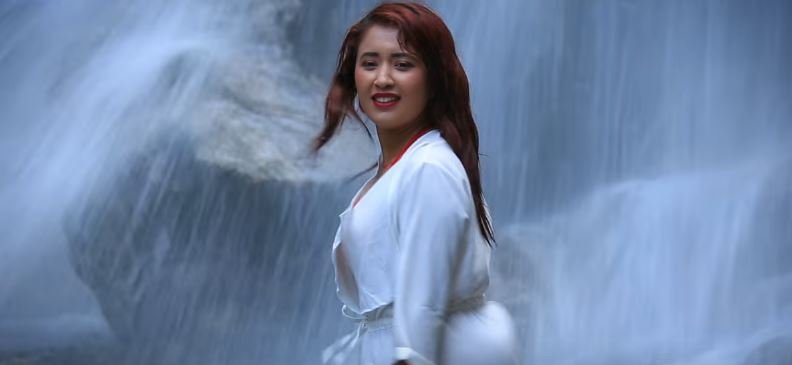 Sukomal Sharir is a new Nepali aadhunik music video by Jhalak Sangroula. The music video features Junu Prasai. Sukomal Sharir is a Nepali song by Jhalak Sangroula which is directed by Ramji Thapa "Rochak". Sukomal Sharir music video was edited by Video Link and music video cinematographed by Dharma Raj Prasai.
The music of this song was composed by Shila Bahadur Moktan and lyrics of this song was written by Keshav Acharya. This music video features of the talented model Junu Prasai who has played a lead role in this music video. Sukomal Sharir is an aadhunik song where a singer has explain the beauty of  Junu Prasai. He has compare beauty of Junu Prasai from different prospective. Overall, Sukomal Sharir is a nice and smoothing song. I am sure when you once listen to the music video, you will keep repeating it again and again.
The music video is released officially online by Music Nepal via Youtube. Hope that you will enjoy this melodious aadhunik song Sukomal Sharir.

Here is the lyrics of Sukomal Sharir by Jhalak Sangroula:
Sukomal Sharir bhijauna
Tyo pani Bhagyamani
Sukomal Sharir bhijauna
Tyo pani Bhagyamani
Anga anga haru
Sajhaune jawani
Anga anga haru
Sajhaune jawani
Sajhaune jawani
Sajhaune jawani
Bhagyamani
Sukomal Sharir bhijauna
Tyo pani Bhagyamani…

Laliguras phulko tyo
Muhar Laliguras
Laliguras phulko tyo
Muhar aakha lovyaune
Aakha lovyaune
Aakha lovyaune
Aakha lovyaune
Kapala ma tasiyeko
Kapala ma tasiyeko
Kothi ko nisani
Kothi ko nisani
Kothi ko nisani
Kothi ko nisani
Bhagyamani
Sukomal Sharir bhijauna
Tyo pani Bhagyamani…

Sunsan raat ma
Mitho yad ma
Chatpatiyeko bela
haaaa
Sunsan raat ma
Mitho yad ma
Chatpatiyeko bela
Timro angalo ma badhi
Timro angalo ma badhi
Timro angalo ma badhi
Naram sirani
Naram sirani
Naram sirani
Naram sirani
Bhagyamani
Sukomal Sharir bhijauna
Tyo pani Bhagyamani

Anga anga haru
Sajhaune jawani
Anga anga haru
Sajhaune jawani
Sajhaune jawani
Sajhaune jawani
Bhagyamani
Sukomal Sharir bhijauna
Tyo pani Bhagyamani………