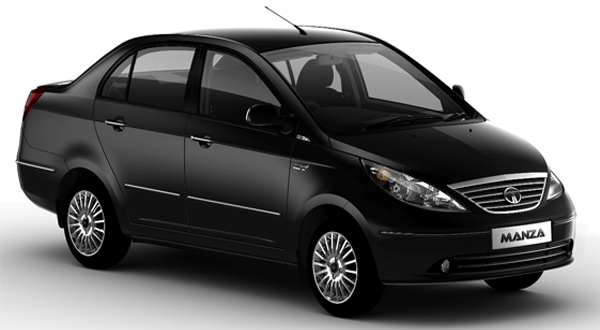 The Tata Manza is a compact sedan car manufactured by a well-known four-wheeler manufacturing company, Tata as a Club Class Sedan. The car, first, was made available in four variants: Aqua, Aura, Aura ABS, Elan, where Aqua was denoted as an entry level car and Elan as a high-end car.
After some period of time, the company brought some changes in the car and accordingly changed their name. The car featured new chrome bits and the name "Aqua" was changed into LS. The name "Aura" was changed to LX after the car featured AC control. Also, the name "Aura ABS" was changed to VX having the same feature of the LX. Besides, the VX Variant featured touchscreen navigation system. Moreover, the high-end car, previously known as "Elan" was changed into EX and was equipped with high-end features like auto climate control along with other features equipped in low variants.
Moreover, Tata has featured double-colored interiors in the car. The high-end variant has painted with black and plum colors. The car is also featured with new software system along with a touchscreen display and Bluetooth connectivity.
Furthermore, Tata has made the car available in two fuel variants; the diesel and petrol. The diesel variant acquires Q-Jet 90 PS engine and the petrol variant features SF 90 PS engine, which is made by Fiat. The diesel and petrol variants produce maximum power of 89 bhp @ 4000 RPM and 89 bhp @ 6000 RPM.
Besides, in Nepal, Tata exports four various variants of Manza under the dealership of Sipradi Trading Private Limited.
Price in Nepal: Rs. 2,770,000 (For Manza GLX),
Rs. 3,115,000 (For Manza GEX),
Rs. 3,125,000 (For Manza LX),
Rs. 3,480,000 (For Manza EX)
Specifications
Dimension:
| | |
| --- | --- |
|  Body Type |  Sedan |
|  Basic Weight |  1125 kg ( Manza GLX / Manza GEX), 1210 kg (Manza LX / Manza EX) |
|  Length |  4413 mm |
|  Height |  1550 mm |
|  Wheelbase |  2520 mm |
|  Front Track |  NA |
|  Rear Track |  NA |
|  Ground Clearance |  165 liters |
Engine:
| | |
| --- | --- |
| Fuel Tank |  44 liters |
|  Cylinders |  4 |
|  Valves Per Cylinder |  NA |
|  Displacement |  1368 cc (Manza GLX / Manza GEX), 1248 cc (Manza LX / Manza EX) |
|  Max Power |  89 bhp @ 6000 RPM (Manza GLX / Manza GEX), 89 bhp @ 4000 RPM (Manza LX / Manza EX) |
|  Max Torque |  116 Nm (Manza GLX / Manza GEX), 200 Nm (Manza LX / Manza EX) |
Dynamics:
| | |
| --- | --- |
| Front Brakes |  Ventilated Disc |
| Rear Brakes |  Drum |
| Front Wheels |  NA |
| Rear Wheels |  NA |
| Front Suspensions |  Independent, Lower Wishbone,McPherson Strut with Coil Spring |
| Rear Suspensions |  Semi-independent, Twist Beam with Coil Springs and Hydraulic Shock Absorbers |
Transmission:
| | |
| --- | --- |
|  Transmission |  Manual |
|  Number of Gears |  5 |