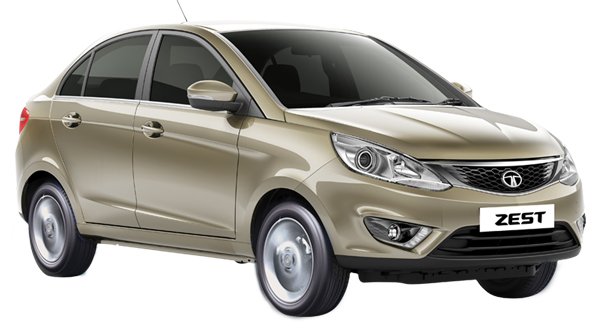 Marketed by Tata Motors, the Tata Zest is compact sedan that came in production in the year 2014. In the year 2014, Tata officially launched the car alongside with its hatchback style at Indian Auto Expo. The Tata Zest lies in the Tata's Falcon Program and is being manufactured on the same platform as of the Tata Vista and Tata Manza.
 Tata has made the car available in two fuel variants; petrol and diesel. The diesel variant Zest features 1.3 liter Quadrajet diesel engine originally made by Fiat which is already being featured in Tata Indica Vista and Tata Manza. Likewise, the petrol variant features new Revotron 1.2 liter turbocharged engine which gives maximum power and torque of 89 bhp and 140 Nm respectively.
Moreover, Tata has further divided the car in categories on the basis of features they possess. The category includes XE, XM, XMA, XMS and XT. The XE variant possesses certain features like tilt adjustable steering wheel, driver information display, a cup holder in the center, dual tone interiors, an adjustable front head rests, an under seat storage drawer, air conditioning and heating, a tachometer and door pockets on all 4 doors. Tata has categorized the class of other cars in the same process.
Furthermore, Tata has been exporting all those variants of Tata Zest in Nepal under the dealership of Sipradi Trading Private Limited.
Price in Nepal: Rs. 2,595,000 (For XE Petrol),
Rs. 3,055,000 (For XM Petrol),
Rs. 3,195,000 (For XE Diesel),
Rs. 3,325,000 (For XT Petrol),
Rs. 3,395,000 (For XM Diesel),
Rs. 3,620,000 (For XT Diesel),
Rs. 3,795,000 (For XMA Diesel),
Rs. 4,075,000 (For XTA Diesel)
Specifications
Dimension:
| | |
| --- | --- |
|  Body Type |  Sedan |
|  Basic Weight |  1135 kg { [XE (Petrol)], [XT (Petrol)] }, 1122 kg [XM (Petrol)], 1170 kg { [XE (Diesel)] / [XM (Diesel)] / [XT (Diesel)] / [XMA (Diesel)] } |
|  Length |  3995 mm |
|  Height |  1570 mm |
|  Wheelbase |  2470 mm |
|  Front Track |  1450 mm |
|  Rear Track |  1440 mm |
|  Ground Clearance |  175 mm |
Engine:
| | |
| --- | --- |
| Fuel Tank |  44 liters |
|  Cylinders |  4, Inline |
|  Valves Per Cylinder |  2 SOHC, 4 DOHC { [XT(Petrol)] / [XM (Diesel)] / [XT (Diesel)] / [XMA (Diesel)] / [XTA (Diesel)] } |
|  Displacement |  1193 cc { [XE(Petrol)] / [XM (Petrol)], [XT(Petrol)] }, 1248 cc { [XE (Diesel)] / [XM(Diesel)] / [XT (Diesel)] / [XMA (Diesel)] / [XTA (Diesel)] } |
|  Max Power |  89 bhp { [XE(Petrol)] / [XM (Petrol)] / [XT(Petrol)] / [XM (Diesel)] / [XT (Diesel)] / [XMA (Diesel)] / [XTA (Diesel)] }, 74 bhp [XE (Diesel)] |
|  Max Torque |  140 Nm { [XE(Petrol)] / [XM (Petrol)] / [XT(Petrol)] }, 190 Nm [XE (Diesel)], 200 Nm { [XM (Diesel)] / [XT (Diesel)] / [XMA (Diesel)] / [XTA (Diesel)] } |
Dynamics:
| | |
| --- | --- |
| Front Brakes |  Disc |
| Rear Brakes |  Drum |
| Front Wheels |  NA |
| Rear Wheels |  NA |
| Front Suspensions |  Dual-path Independent McPherson Strut with Coil Spring and Anti-Roll Bar |
| Rear Suspensions |  Twist Beam with Coil Spring |
Transmission:
| | |
| --- | --- |
|  Transmission |  Manual, Automatic { [XMA (Diesel)] / [XTA (Diesel)] } |
|  Number of Gears |  5, NA { [XMA (Diesel)] / [XTA (Diesel)] } |