Thaha Chhaina by Prem Sen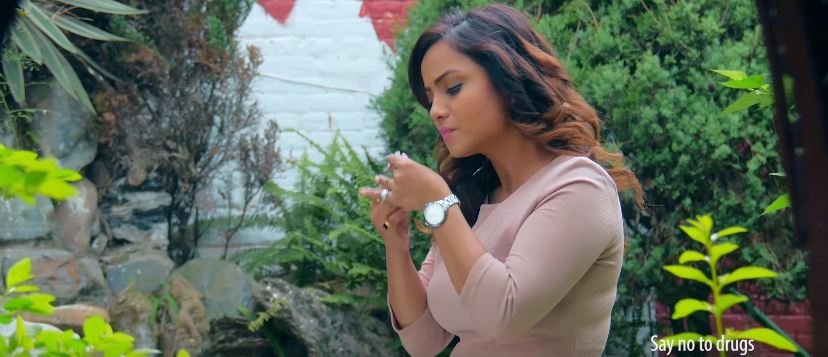 Thaha Chhaina is a new aadhunik Nepali song by Prem Sen. The music video features by Namrata Sapkota and Vivek Singh Thakuri. Thaha Chhaina is directed by Tekendra Shah. The music video was Cinematographed by Bidur Pandey and was edited by Tekendra Shah.
The music for this song was composed by Hari Lamsal and lyrics was written by Naresh Bhattarai. The music video features versatile actress Namrata Sapkota. She featured in more than 100 music videos, ads and dozen of Nepali movie. Thaha Chhaina is a sentimental Nepali song which shows that what can do by person who was addiction of drug. And also deliver the message that never make someone very special in your life. When you once listen this song, I am sure you will keep repeating it.
The music video is released officially online by Budha Subba Digital Pvt Ltd via Youtube. Hope that you will enjoy this melodious aadhunik song Thaha Chhaina.
Here is the lyrics for Thaha Chhaina:
Thaha Chhaina maile jite ya haare
Thaha Chhaina maile jite ya haare
J bhanau chupa chap chupa chap
Maela maane
J bhanau chupa chap chupa chap
Maela maane
Thaha Chhaina maile jite ya haare…..

Hasa bhanau hasi diye
Pida lukae basi diye

Hasa bhanau hasi diye
Pida lukae basi diye
Rahar haru panchayera
Rahar haru panchayera
Timrai lagi phuli rahe
Timrai lagi phuli rahe
Thaha Chhaina maile jite ya haare…..

Maya gare afno thani
TImilai satha dihe rahe

Maya gare afno thani
TImilai satha dihe rahe
Tara aja timi batai
Tara aja timi batai
Badlama chota paaye
Badlama chota paaye
Thaha Chhaina maile jite ya haare
J bhanau chupa chap chupa chap
Maela maane
J bhanau chupa chap chupa chap
Maela maane
Thaha Chhaina maile jite ya haare…………