Timi Nai Timi by Roshan Shrestha Ft. Benisha Hamal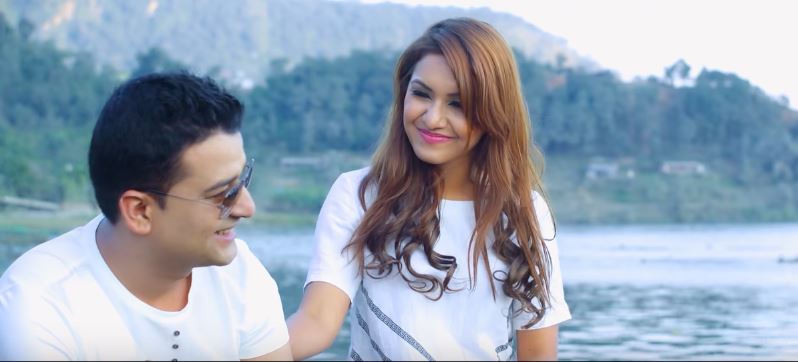 Timi Nai Timi is a New Aadhunik Melodious Nepali pop song from Album "SUSERI". The music video features Sagar and Benisha Hamal. Timi Nai Timi is a Nepali song by Roshan Shrestha which is directed by Nikesh Khadka. Timi Nai Timi music video was edited by Nishan Ghimire.
The music of this song was composed by Kalyan Singh and lyrics was written by Roshan Shrestha himself. The music video is featuring by versatile actress Benisha Hamal. She has appeared in numerous music videos, television commercials, print ads and Nepali movie. Benisha Hamal is one of the rising actress of Nepali music as well as filmy industry. Timi Nai Timi is a love story song which shows the love between Sagar and Hot actress Benisha Hamal.
The music video is released officially online by SongsNepal via Youtube. Hope that you will enjoy this Melodious Romantic pop Song Timi Nai Timi.

Here is the lyrics for the song:
Yeti dherai maya
Garchu ma timilai timilai
Badlidinchu timro lagi
Badal dinchu duniyalai
Dinchu duniyalai
Chhami hera yo
Ridaya timi
Her Sahas la bhancha
Timinai timi
Chhami hera yo
Ridaya timi
Her Sahas la bhancha
Timinai timi…

Aakash dharti raya samma
Daiba la sahas
Na hara samma
Huna chu timro
Ori pari
Angalo ma beri
Sadai bhari
Chhami hera yo
Ridaya timi
Her Sahas la bhancha
Timinai timi
Chhami hera yo
Ridaya timi
Her Sahas la bhancha
Timinai timi…

Timro sahas raya samma
Jiwan yo na dhala samma
Samjhauna chu timilai ma
Timinai aba sara chaha
Chhami hera yo
Ridaya timi
Her Sahas la bhancha
Timinai timi
Chhami hera yo
Ridaya timi
Her Sahas la bhancha
Timinai timi………