Timi Timrai Kura Garchhau by Raj Sigdel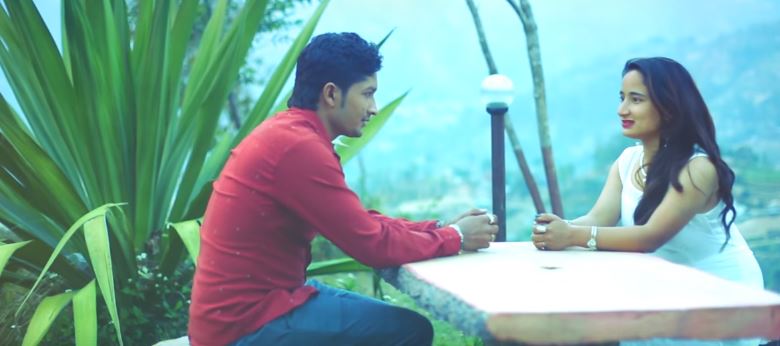 Timi Timrai Kura Garchhau is a New aadhunik melodious Nepali song by Raj Sigdel. The music video features Manjula, Bishnuhari and Lokes. Timi Timrai Kura Garchhau is directed by Chandra Mani Muduhari and Ghanashyam Muduhari. The music video was edited by Santosh Tumbahangphe.
The music for this song is composed by Raj Sigdel and lyrics was written by Kamal Aryal. The music video features versatile hot model Manjula. Manjula is a one of the established hot and sexy model of Nepali music video Industry. Timi Timrai Kura Garchhau deliver the message that there is on one behind you who can listen your voice. This music video was arranged by Uday Raj Paudel. When you once listen this song, I am sure you will keep repeating it.
The music video is released officially online by SongsNepal via Youtube. Hope that you will enjoy this melodious modern song Timi Timrai Kura Garchhau.
Here is the lyrics for Timi Timrai Kura Garchhau:
Timi Timrai Kura Garchhau
Mero kura suncha kasala
kasala kasala
Timi Timrai Kura Garchhau
Mero kura suncha kasala
Timi Timrai Kura Garchhau
Mero kura suncha kasala
Gau chode besi jarchau
Mero kura suncha kasala
Mero kura suncha kasala
Mero kura suncha kasala
kasala
Timi Timrai Kura Garchhau
Mero kura suncha kasala….

Malai chot lagda kheri
Timi lai dhuknu parna

Malai chot lagda kheri
Timi lai dhuknu parna
Najik parda aakha tarchau
Mero kura suncha kasala
Gau chode besi jarchau
Mero kura suncha kasala
Mero kura suncha kasala
Mero kura suncha kasala
kasala kasala
Timi Timrai Kura Garchhau
Mero kura suncha kasala….

Timi lai bhannu parna
Kati kura maan ma theyo

Timi lai bhannu parna
Kati kura maan ma theyo
Jarkeyera para sarchau
Mero kura suncha kasala
Gau chode besi jarchau
Mero kura suncha kasala
Mero kura suncha kasala
Mero kura suncha kasala
kasala
Timi Timrai Kura Garchhau
Mero kura suncha kasala

Timi Timrai Kura Garchhau
Mero kura suncha kasala
Gau chode besi jarchau
Mero kura suncha kasala
Mero kura suncha kasala
Mero kura suncha kasala
kasala kasala
Timi Timrai Kura Garchhau
Mero kura suncha kasal……………