Timilai Dekhera By Raju Lama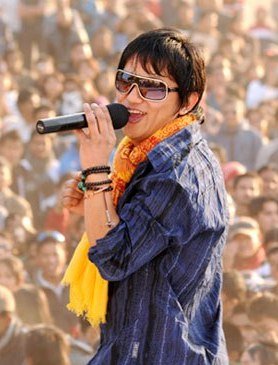 Timilai Dekhera is a Nepali Pop song by Raju Lama. The music video features Smriti Bhandari. Thimilai Dekhera is a Nepali song by Raju Lama which is directed by Brazesh. This music video was edited by Nabin Brazesh himself. And Jeewan Shrestha is the cameraman for this song.
The music for the song was composed by Mongolian Heart and the lyrics for the songs was written by Yogeshwor Amatya and Raju Lama. Raju Lama is one of the best singer , writer and music composer of his time and awarded with different awards. The music video features one of the versatile hot model Smriti Bhandari. Raju and Smriti make perfect couple in this song. The song is all about explaining the beauty of the lover with comparison of nature. This song also indirectly explain the Himalayan beauty of Nepal and try to show the culture and tradition of different part of Nepal. When you once listen this song, I am sure you will keep repeating it.
The music video is released officially online by Music Nepal via Youtube. Hope that you will enjoy this Melodious pop Song.
Here is the lyrics for the song:
Timro Joban Lai
Ho Dekhe Ra
Pirate Hi Ganse Ko

Timilai Dekhera Himala Hanseko
Timro Geeta Sunera Munala Nacheko
Timro Joban Lai, Ho Dekhe Ra
Pirate Hi Ganse Ko
Pirate Hi Ganse Ko

Yesai Thaun Ma Ghumna Aako Ma Eauta Pardeshi
Ho Oh Oh.. Yesai Thaun Ma Ghumna Aako Ma Eauta Pardeshi
Thahai Napai Ba-Se Chha Maya Aakash Bahnda Besi
Thahai Napai Ba-Se Chha Maya Aakash Bahnda Besi
Hiun Paryo Fururu Himali Bhegai Ma
Hiun Paryo Fururu Himali Bhegai Ma
Dil Basyo Yehi Nira Kati Chhando Timi Ma
Dil Basyo Yehi Nira Kati Chhando Timi Ma
Kati Chhando Timi Ma
Kati Chhando Timi Ma
Ah Ha.

Timro Chino Kusume Rumal Ma-Nia Bhari Sajau La
Ho Oh.. Timro Chino Kusume Rumal Ma-Nia Bhari Sajau La
Lalupate Phula Jhai Gadha, Timro Siundo Rangaun La
Lalupate Phula Jhai Gadha, Timro Siundo Rangaun La
Khaun Kasam Lau Aaja, Deurali Bhake Ra
Khaun Kasam Lau Aaja, Deurali Bhake Ra
Na Mare Maya Aaunchhu Ma Phar Ke Ra
Na Mare Maya Aaunchhu Ma Phar Ke Ra

Timilai Dekhera Himala Hanseko
Timro Geeta Sunera Munala Nacheko
Timro Joban Lai, Ho Dekhe Ra
Pirate Hi Ganse Ko
Pirate Hi Ganse Ko
Pirate Hi Ganse Ko
Pirate Hi Ganse Ko
Pirate Hi Ganse Ko