Timilai Kaile by Pramod Kharel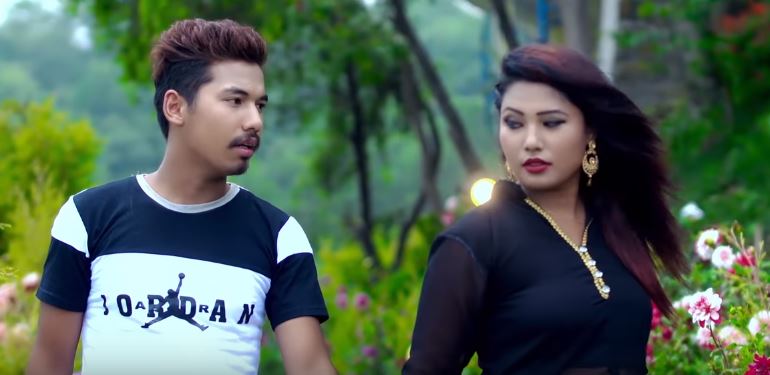 Timilai Kaile is a new aadhunik song by Pramod Kharel. The music video features Aryan Shrestha and Kanchan BC. Timilai Kaile is directed by Kapil Lama. The music video was Cinematographed by Mahesh Mahara and was edited by Amar Shakya.
The music for this song was composed by Sagar Birahi and lyrics was written by Bimal Adhikari. Pramod Kharel is a one of the established and much-loved singers in Nepali music industry. Pramod Kharel is a playback singer. His many recorded song are popular. This music video tries to deliver the message that it is difficult to forget the true lover. Overall, The two talented and hot model Aryan Shrestha and Kanchan BC has given their best performance. When you once listen this song, I am sure you will keep repeating it.
The music video is released officially online by Music Nepal via Youtube. Hope that you will enjoy this melodious aadhunik song Timilai Kaile.
Here is the lyrics for Timilai Kaile:
Timilai kahile sakdina bhulna
Na sochanu timi
Bhulchha ki bhani

Timilai kahile sakdina bhulna
Na sochanu timi
Bhulchha ki bhani
Mero sara sansar timi hau
Mero sara sansar timi hau
Sakdina arkai dalima fulnu
Sakdina arkai dalima fulnu
Timilai kahile sakdina bhulna
Na sochanu timi
Bhulchha ki bhani ……

Ragat jastai timro tyo maya
Bhagchha hai bhan theyau
Nasha nasha ma

Ragat jastai timro tyo maya
Bhagchha hai bhan theyau
Nasha nasha ma
Sath dinchu bhan theyau
Juni juni lai
Sath dinchu bhan theyau
Juni juni lai
kasari Timilai bhulu lara ma
kasari Timilai bhulu lara ma
Timilai kahile sakdina bhulna
Na sochanu timi
Bhulchha ki bhani….

Dukhe ko gau selaudai theyo
Tesai ma malam laidinchhu bhanau

Dukhe ko gau selaudai theyo
Tesai ma malam laidinchhu bhanau
Tutchha ki bhani maya ma biswas
Tutchha ki bhani maya ma biswas
Na paya timilai maridinchhu bhanau
Na paya timili maridinchhu bhanau
Timilai kahile sakdina bhulna
Na sochanu timi
Bhulchha ki bhani

Mero sara sansar timi hau
Mero sara sansar timi hau
Sakdina arkai dalima fulnu
Sakdina arkai dalima fulnu
Timilai kahile sakdina bhulna
Na sochanu timi
Bhulchha ki bhani …………