Timilai Ruwayera by Sabina Bhattarai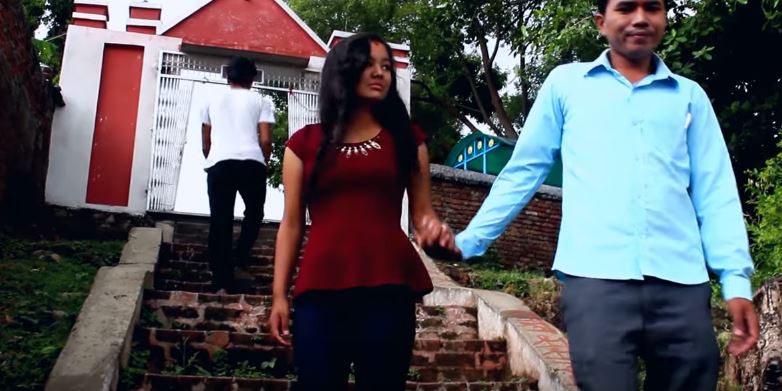 Timilai Ruwayera is a new Nepali modern sentimental song by Sabina Bhattarai. The music video features Sudan, Sharban and Priya. Timilai Ruwayera was directed by Ankita D.C. This music video was Cinematographed by Ankita D.C and music video was edited by Sudan Thapa.
The music for this song was composed by Santosh Shrestha and lyrics for this song is written by Sunil KC. Timilai Ruwayera is a sentimental Nepali song which shows that Sharban and Priya love each other but Priya marry another guy due to family pressure. Later on, she cannot replace the love of sharban and come back with her first love. In this music video, she has shown the actual meaning of true love. Timilai Ruwayera music video is presented by Kumar Jirel. When you once listen this song, I am sure you will keep chanting it.
The music video is released officially online by HighlightsNepal via Youtube. Hope that you will enjoy this melodious sentimental song Timilai Ruwayera.
Here is the lyrics for Timilai Ruwayera:
Timilai Ruwayera
Khusi huna sakdena ma
hoo Timilai Ruwayera
Khusi huna sakdena ma
Aashu jardai narau timi
Timro khusi magdena ma
Aashu jardai narau timi
Timro khusi magdena ma
Timilai Ruwayera
Khusi huna sakdena ma…..

K nai chha ra mutu bhari
Timro maya bhanda sanasar Nai
Aarkai lagcha due mutu ek bhanda

hoo K nai chha ra mutu bhari
Timro maya bhanda sanasar Nai
Aarkai lagcha due mutu ek bhanda
Timilai Ruwayera
Khusi huna sakdena ma hoo
Timilai Ruwayera
Khusi huna sakdena ma
Aashu jardai narau timi
Timro khusi magdena ma
Aashu jardai narau timi
Timro khusi magdena ma
Timilai Ruwayera
Khusi huna sakdena ma….

Timi bina mero jiban
Jiudo lasa jasto
Due mutu ko aautai
Dhadkan aautai
Sasa jasto hoo

Timi bina mero jiban
Jiudo lasa jasto
Due mutu ko aautai
Dhadkan aautai
Sasa jasto hoo
Timilai Ruwayera
Khusi huna sakdena ma……………