Timro Bachanle Dukheko Mutulai by Anju Panta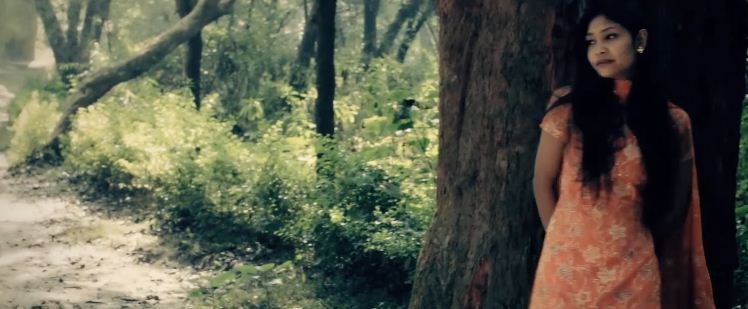 Timro Bachanle Dukheko Mutu is an aadhunik new Nepali song by Anju Panta. The music video features Shailesh, Anjila and Rima. This music video is cinematographed and post-produced by Ghau Chot Production. Timro Bachanle Dukheko Mutulai is a beautiful Nepali song directed by Shailesh Kandel Kshetri and Visan Magar. Raju Bhujel composed the music as well as lyrics for this video song.
Timro Bachanle Dukheko Mutulai is a beautiful sentimental song by Anju Panta. She is a famous, versatile and talented singer in Nepal. Anju Panta has given her voice in numerous hit songs. Her voice in any song adds sweetness to that song. This music video reflects the pain a girl has to suffer after devastating break ups. The music video also alerts for staying awake and for blindly trusting anybody. It is so disappointing that how people act being what they are not in real. Though the universe is great and pure, but people residing by are all with fake faces. We are in situations that, we ought to think twice before talking to anyone. In addition, for being in solemnly relationship, it is a challenging one. All these materials are emerged in this video song. Timro Bachanle Dukheko Mutulai is presented by Jun Tara Production. I assure, you will repeat the song once you listen to it.
The music video is officially released online by SongsNepal via YouTube. Hope you guys will love this tragic melodious song "Timro Bachanle Dukheko Mutulai".
Lyrics of Timro Bachanale Dukheko Mutulai
Timro bachan le dukhko mutu lai

Timro bachan le dukhko mutu lai

Bhitra bhitrai aafai samhalera rakhe

Timro biyog le bhijeko pareli

Timro biyog le bhijeko pareli

Diniya dekhi lukayera haase

Timro bachan le dukhko mutu lai

 

Aafno manchhe bhani bhani

Timle chhura ropyeu

 

Oo aafno manchhe bhani bhani

Timle chhura ropyeu

Sadhai malai ruwayera

Aafno khusi khojyeu

Timro maya le diyeko chota

Upahar samjhi sangalera rakhe

Upahar samjhi sangalera rakhe

Timro biyog le bhijeko pareli

Timro biyog le bhijeko pareli

Diniya dekhi lukayera haase

Timro bachan le dukhko mutu lai

 

Aafu eklo huda matrai

Mero satha rojeyu

Aafu eklo huda matrai

Mero satha rojeyu

Sara rahar purayera

Timle nata todyeu

Badnami naso chhodera gayeu

Badnami naso chhodera gayeu

Sabai samu sira jhukayera bache

Timro biyog le bhijeko pareli

Diniya dekhi lukayera haase

Timro bachan le dukhko mutu lai