Timro Ghar Jalai by Pramod Kharel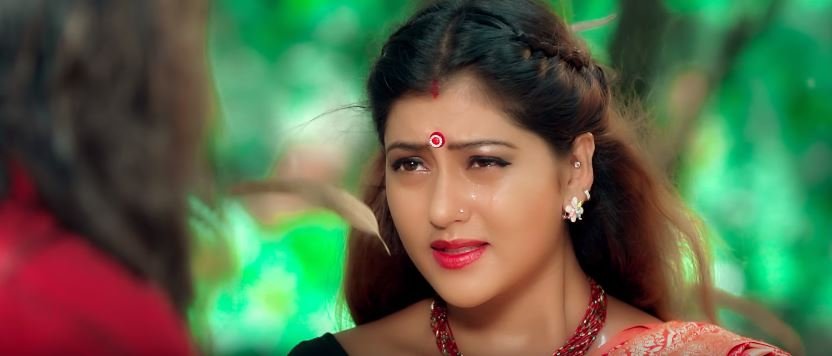 Timro Ghar Jalai is a new aadhunik song by Pramod Kharel. The music video features Deepak Muskan and Sagun Sahi. Timro Ghar Jalai song which is directed by Hum Gaire. The music video was Cinematographed by Sagar Gautam and was edited by Hum Gaire.
The music for this song was composed by Mahesh Khadka and lyrics was written by Nawraj Satyal. Pramod Kharel is a one of the established and much-loved singers in Nepali music industry. Pramod Kharel is a playback singer. His many recorded song are popular. This song deliver the message that biggest thing in this world is that we must able to scarifies our happiness for other happiness. Overall, The talented and hot model Deepak Muskan and Sagun Sahi have given their best performance. When you once listen this song, I am sure you will keep repeating it.
The music video is released officially online by Music Nepal via Youtube. Hope that you will enjoy this melodious aadhunik song Timro Ghar Jalai.
Here is the lyrics for Timro Ghar Jalai:
Timro Ghar Jalai mero
Mahal banauna chahana ma

Timro Ghar Jalai mero
Mahal banauna chahana ma
Timilai ashu ma dubai
Timilai ashu ma dubai
Mero khusi batula chahana ma
Timro Ghar Jalai mero
Mahal banauna chahana ma……..

Ashu deu aashu piuchu
Khusi china timrai
Yad ma jiuchu

Ashu deu aashu piuchu
Khusi china timrai
Yad ma jiuchu
Ma ta timilai bhulna chaena
Timile mann ma na rakhe
Kaela tadha hunna hera
Timile cheuma na dhake ni
Timro Ghar Jalai mero
Mahal banauna chahana ma
Mero Mahal banauna chahana ma
Mero Mahal banauna chahana ma……..

Bish nai deu malae
Piudina bish kaela bhandina ma

Bish nai deu malae
Piudina bish kaela bhandina ma
Jhuto nai theyo timro maya
Jhut maya jal ko paso
Timro samu pardina ma
Gardina kae gunaso
Timro Ghar Jalai mero
Mahal banauna chahana ma
Mero Mahal banauna chahana ma
Mero Mahal banauna chahana ma
Mero Mahal banauna chahana ma…………