Timro Tyo Muskan by Pasang Sherpa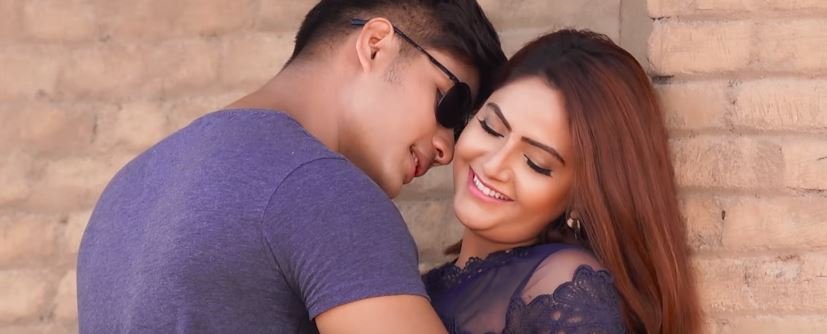 Timro Tyo Muskan is a new Nepali Pop Song by Pasang Sherpa. The music video features Neepun and Barsha Shiwakoti. Timro Tyo Muskan is a Nepali song which is directed by Sanjaya Baral. The music video was edited by Bikash Dhamala and was Cinematographed by Buddha Thapa & Team.
The music for this song is composed by Arjun Pokharel and lyrics was written by Sumitra Ashrudhara. The music video features versatile actress Barsha Shiwakoti. Nepali actress and model Barsha Siwakoti has established herself as a successful model in Nepali music video. This music video shows honest relation are like water no color, no shape, no space but still very important for life. Here, Neepun and Barsha Shiwakoti are very important for each other. Timro Tyo Muskan was choreographed by Rajiv Samar.
The music video is released officially online by HighlightsNepal via Youtube. Hope that you will enjoy this pop song Timro Tyo Muskan.

Here is the lyrics for Timro Tyo Muskan:
Timro Tyo Muskan herda herdai
ekohoro ekohoro bhae sake ma
Timro nasalu jawani ko
Nasa ma dubada dubadai
Gae sake ma
Bachae deu please malae
Hasae dau
Bachae deu please malae
Hasae dau Afnai samjhiyera
Please Please Please
Ghar bar basae deu
Ghar bar basae deu
Ghar bar basae deu
Ghar bar basae deu
Ghar bar basae deu
Ghar bar basae deu
Ghar bar basae deu
Ghar bar basae deu……..

Chalkiyo chalkiyo pani
Bottle ko pani chalkiyo
Dhalkiyo dhalkiyo jobani
Timilai kurdai ma dhalkiyo

Chalkiyo chalkiyo pani
Bottle ko pani chalkiyo
Dhalkiyo dhalkiyo jobani
Timilai kurdai ma dhalkiyo
Bachae deu please malae
Hasae dau
Bachae deu please malae
Hasae dau Afnai samjhiyera
Please Please Please
Ghar bar basae deu
Ghar bar basae deu
Ghar bar basae deu
Ghar bar basae deu
Ghar bar basae deu
Ghar bar basae deu
Ghar bar basae deu
Ghar bar basae deu……..

Kaela bhanna pauna hola
Timilai o my daring
Birsinu ma kasai chae
Timro sweet smileing

Kaela bhanna pauna hola
Timilai o my daring
Birsinu ma kasai chae
Timro sweet smileing
Bachae deu please malae
Hasae dau
Bachae deu please malae
Hasae dau Afnai samjhiyera
Please Please Please
Ghar bar basae deu
Ghar bar basae deu
Ghar bar basae deu
Ghar bar basae deu
Ghar bar basae deu
Ghar bar basae deu
Ghar bar basae deu
Ghar bar basae deu…………