Tol Tol Ma by Rajkumar Devkota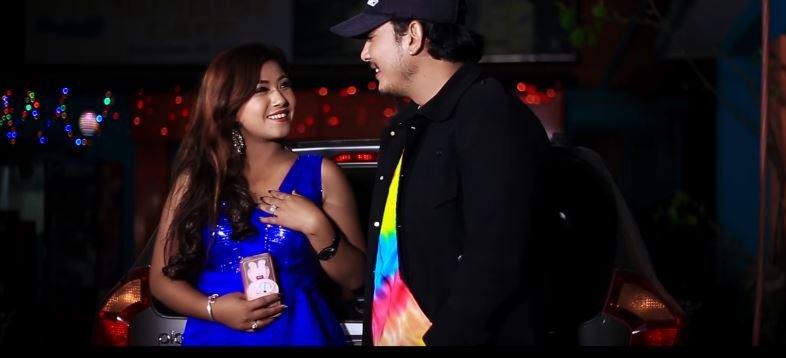 Tol Tol Ma is a new melodious aadhunik Nepali song by Rajkumar Devkota. The music video features Binod Shrestha, Aarushi Magar, Krishna, Basanta and Shreeshan. Tol Tol Ma is a Nepali song by Rajkumar Devkota which is directed by Sher Bahadur DC.
The music composition for this music video was done by Santosh Shrestha and lyrics of this song was written by Dinesh Budha Chhetri. Tol Tol Ma is a beautiful melodious song by Rajkumar Devkota. He is one of the talented, versatile and devoted singers of Nepal. Tol Tol Ma music video has explain the beauty and figure of Aarushi Magar. In this song, all the guys of this town are following to Aarushi Magar due to her hot and sexy figure. I am sure you people will love and likely repeat the song once you tune.
The music video is officially release online by Music Nepal via YouTube. Hope you guys will enjoy this beautiful melodious song Tol Tol Ma.
Here is the lyrics of Tol Tol Ma by Rajkumar Devkota:
Tol Tol ma halla chalyo

Timro jiu dal ko

Tol tol ma halla chalyo

Timro jiu dal ko

Timro rup ranga bolna dhanga

Timro rup ranga bolna dhanga

Chare kamal ko

Ware wa kamal ko

Ware wa kamal ko

Tol tol ma halla chalyo

Timro jiu dal ko…

Ko ho na hola ra
Timro galli galli dhauna
Ek najar matra bhaye
Pani timro jhalko pauna
Ko ho na hola ra
Timro galli galli dhauna
Ek najar matra bhaye
Pani timro jhalko pauna
Jagayau chaha dil ma
Timile kamal ko
Timro rup ranga bolna dhanga
Timro rup ranga bolna dhanga
Chare kamal ko
Ware wa kamal ko
Ware wa kamal ko
Tol tol ma halla chalyo
Timro jiu dal ko…

Mutu ko dhadkan badae
Diyau piyasha timila
Bharai diyo har najar ma
Ashai ashai timile
Mutu ko dhadkan badae
Diyau piyasha timila
Bharai diyo har najar ma
Ashai asha timile
Jagayau chaha dil ma
Sachai nai kamal ko
Timro rup ranga bolna dhanga
Timro rup ranga bolna dhanga
Chare kamal ko
Ware wa kamal ko
Ware wa kamal ko
Tol tol ma halla chalyo
Timro jiu dal ko……