Welcome Back Review and Box Office Collection Report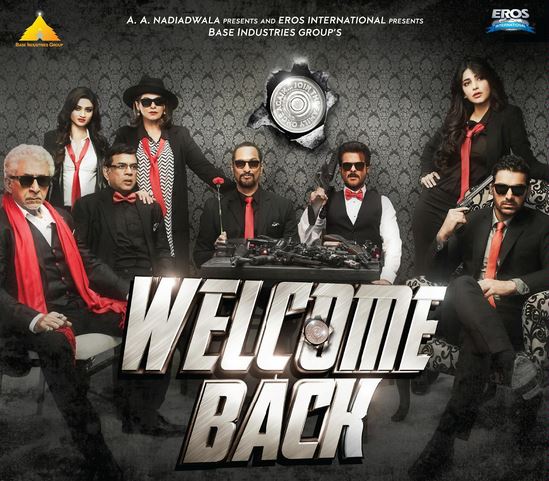 "Welcome Back" is the sequel to the Anees Bazmee 2007 comedy hit "Welcome" but this time around there is no Akshay Kumar in it. The movie has an ensemble star cast which includes Anil Kapoor, Nana Patekar, John Abraham, Naseeruddin Shah, Shruti Haasan, Paresh Rawal and Dimple Kapadia. Once again, this comedy genre movie has been directed by Anees Bazmee and it hit the silver screen on 4th September, 2015.
The Plot
The movie "Welcome Back" begins where "Welcome" had ended in 2007. The two bhais Uday Shetty (Nana Patekar) and Majnu (Anil Kapoor) are now reformed men, running a respectable hotel business in Dubai. This time again, both of them fall for the same girl called Chandni (Ankita) and want to marry her, but her mother Maharani Padmavati (Dimple Kapadia) has set a condition that they first have to marry of their sister, Ranjana (Shruti Haasan). In comes another bhai, Ajju Bhai (John Abraham), whom Ranjana falls in love with and wants to marry. Incidentally, Ajju is the stepson of Dr Ghungaroo (Paresh Rawal). Uday and Majnu disapprove of Ajju as they want a decent match for their sister. They hire a blind don called Wanted Bhai (Naseeruddin Shah) to put him out of way. The don's son Honey (Shiney Ahuja) also wants him dead as he loves Ranjana. The entire plot turns into a confusing mayhem as Maharani and Chandni also turn out to be con women after the wealth of Uday and Majnu.
The Performances
"Welcome Back" is nothing but utter confusion and it seems that even the director is not convinced about the plot as well as direction of the film. Surely, he has not been able to take "Welcome Back" anywhere near its prequel, leave alone making a comparison with it. The comedy is absolutely useless and despite having such a wonderful star cast, the film fails to impress. Nana Patekar and Anil Kapoor are the only ones who have done justice to the comedy with their humorous one-liners, but they too have been unable to save the movie. John Abraham has been totally wasted, with just some songs and action coming in his share. Naseeruddin Shah does not deserve such a futile role, and nor does Paresh Rawal. The ladies have also not had their fair share in the dumb-ass plot.
Box Office Collections
Despite being a mediocre film, "Welcome Back" has been able to perform exceptionally well at the box office, thanks to the "Welcome" factor and an impressive star cast. In fact, the movie has grossed the third highest box office collections in 2015, right after "Bajrangi Bhaijaan" and "Brothers". It made a good opening show of Rs 14.35 crore on the first day, catching momentum over the weekend with the collections of Rs 17.05 crore on Saturday and Rs 19.60 crore on Sunday. The domestic box office collections for the first weekend totaled up to an impressive Rs 51 crore. The film has done well on international circuits too, making a collection of $ 3.21 million in the first weekend.