Yo Geet Timrai Lagi by Samip Deepak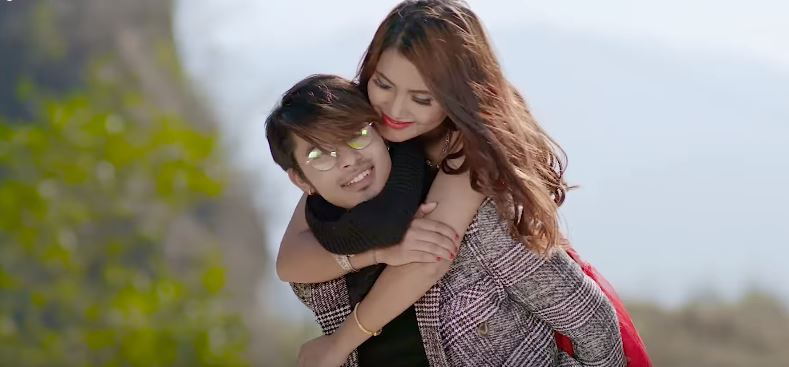 Yo Geet Timrai Lagi is Nepali romantic pop song by Samip Deepak. The music video features gorgeous and handsome models Anita and Sankalpa. Yo Geet Timrai Lagi  is a Nepali song which is directed by Bikalpa Shrestha. The music video was edited by Kranti K.Cand cinematography was done by Ajay Regmi.
The lyrics and music of this song is composed by Samip Deepak. This music video features beautiful model Anita who looks very attractive in the video. Anita and Sankalpa have given their best performance in this music video and make it awesome. This music video carried romantic love story between Anita and Sankalpa. The music video was post production by S.B. Creative Model Agency. You can see the music video from below:
The music video is released officially online by SongsNepal via Youtube. Hope that you will enjoy this Melodious romantic song Yo Geet Timrai Lagi.
Here is the lyrics for Yo Geet Timrai Lagi:
Yo mutu timrai lagi
Yo dhadkan timrai lagi

Yo mutu timrai lagi
Yo dhadkan timrai lagi
Bache pani timrai lagi
Mare pani timrai lagi
Bache pani timrai lagi
Mare pani timrai lagi
Mero sara sansar timrai lagi
Mero sara sansar timrai lagi
Mero sara sansar timrai lagi…….

Sano sano maya ko ghar hola
Due mutu ko baasha hola

Sano sano maya ko ghar hola
Due mutu ko baasha hola
Mayako dhori tutena bhane
Mayako dhori tutena bhane
Jiban jiune asha hola
Yo geet timrai lagi
Sangeet timrai lagi……..

Dilai ma rakhou
Sadhai timilai
Akhama sajhae timrai sapani

Dilai ma rakhou
Sadhai timilai
Akhama sajhae timrai sapani
Timilai herdai nidauna pau
Timilai herdai nidauna pau
Sadhai lagi ni dhauda pani
Yo muskan timrai lagi
Yo mamta timrai lagi
Hase pani timrai lagi
Roye pani timrai lagi
Hase pani timrai lagi
Roye pani timrai lagi
Mero sara sansar timrai lagi
Mero sara sansar timrai lagi
Mero sara sansar timrai lagi………