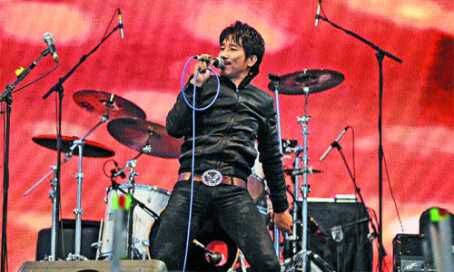 Yo Nepal is a New Nepali romantic pop song from Album "Sataha". Yo Nepal is a Nepali song by Sabin Rai which is patriotic song about Nepal. He express his love about our country Nepal through music.
The lyrics of this song was done by Sabin Rai and the music is composed by Taal music. The voice in this song is one of the famous and well known singer Sabin Rai. He is a Nepali Singer and lyricist who is often called as the Bryan Adams of Nepal, because of the voice match. He born in Dharan Nepal. Mr. Rai known for his stage performances and the interest he brings in his old songs by singing in different style. This song is produced by Taal Production. This song is also melodious and heart touching. I assure that once you listen to this song you will keep repeating it.
The music video is released officially online by nepaliroocks via Youtube. Hope that you will enjoy this Melodious pop Song Yo Nepal.
Here is the lyrics for the song:
Yo mero des malai
Pyaro laagchha
Chandra pani yehin chha
Surya pani yehin chha
Sagarmatha ko mukut
Odi biswa saamu ubhiyeko…..
Yo NEPAL
Yo NEPAL…….

Nepali hunuma
Garba laagdachha
Gunyu choli ramro
Dhaka topi hamro
Bir ko des hamro
Jhuikna nachahaneharuko yo des
Yo NEPAL
Yo NEPAL…….

Cha jaat chhatis barna
Sajha hamro phoolbari
Buddha le janma liyeko
Hamro yo pyaro
Sano yo yeutai des
Yo NEPAL
Yo NEPAL…….