Aadhi Ratma by Melina Rai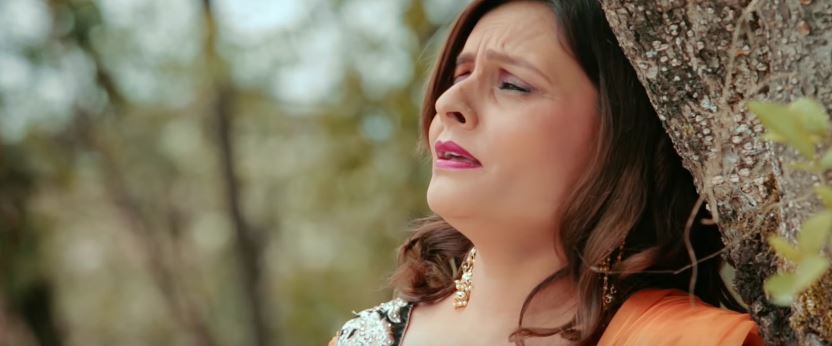 Aadhi Ratma is a new aadhunik song by Melina Rai. The music video features Sashi and Nitu. Aadhi Ratma is a Nepali song which is directed by Raju KC. The music video was cinematographed by Raju KC and was edited by Tekendra Shah.
The music for this song was composed by Netra Bandhan KC and lyrics was written by Sashi Lamichhane. Nepali singer Melina Rai is playback singer. Melina Rai's voice is as beauty as her personal appealing. Melina Rai has added his sweet voice to make this song more melodious. Overall, The music video was about long distance love between Sashi and Nitu because of which they are missing their great moment of the life. When you once listen this song, I am sure you will keep repeating it.
The music video is released officially online by Music Nepal via Youtube. Hope that you will enjoy this melodious sentimental song Aadhi Ratma.
Here is the lyrics for Aadhi Ratma:
Aadhi ratma chadpati dai
Samjhi samjhi runchu

Aadhi ratma chadpati dai
Samjhi samjhi runchu
Timi bina yo mutu nai
Na bhaye jhai hunchu
Timi bina yo mutu nai
Na bhaye jhai hunchu
au priya au
Yo jibanai dinchu
Yo jibanai dinchu………

Yeta uti charai tira
Timilai nai khojhachu

Yeta uti charai tira
Timilai nai khojhachu
J j bhanos duniyale
Ma ta timlai rojhachu
Sakdina ma chodna lai
Bato antai modna lai
Au priya au chitai
Manna mutu jodhan lai
Manna mutu jodhan lai

Aadhi ratma chadpati dai
Samjhi samjhi runchu
Timi bina yo mutu nai
Na bhaye jhai hunchu
Timi bina yo mutu nai
Na bhaye jhai hunchu
au priya au
Yo jibanai dinchu
Yo jibanai dinchu………

Timi bina mero mutu
Aago le jhai polcha

Timi bina mero mutu
Aago le jhai polcha
Suna au yo dhadkan le
Kebal timro name bolcha
Kebal timro name bolcha
Timro maya yo dil bata
Sakdina ma hatauna lai
Chitai au binti mero
Khali dil ma atauna lai
Khali dil ma atauna lai

Aadhi ratma chadpati dai
Samjhi samjhi runchu
Timi bina yo mutu nai
Na bhaye jhai hunchu
Timi bina yo mutu nai
Na bhaye jhai hunchu
au priya au
Yo jibanai dinchu
Yo jibanai dinchu………