Akhai Akha Ko by Melina Rai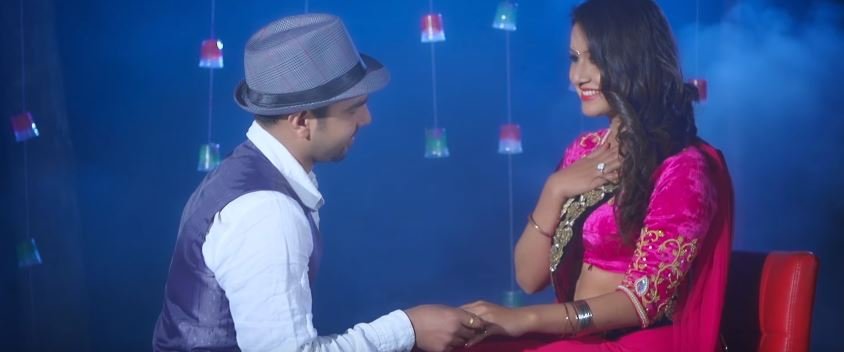 Akhai Akha Ko is a aadhunik Nepali song by Melina Rai. The music video features Benisha Hamal and Kushal. Akhai Akha Ko is a Nepali song which is directed by Nava Dhungel. The music video was Cinematographed by Amrit Sunuwar and was edited by Nishan Ghimire.
The music for this song is composed by Ramesh Kadariya and lyrics was written by Tara Adhikari. Akhai Akha Ko is a melodious heart touching song by Melina Rai. She is one of the famous, talented and versatile singer of Nepal. Melina Rai has given her voice in more than hundreds of hit songs. Her melodious voice adds flavor in every song she sings. In this music video, Benisha Hamal is expressing her feeling of love from this song. Benisha Hamal has given her best performance int his music video. I am sure you will like repeating this song when you once listen to it.
This music video is officially released online by Music Nepal via YouTube. Hope you guys will enjoy this melodious aadhunik song Akhai Akha Ko.
Here is the lyrics for Akhai Akha Ko:
Akhai akha ko bhasa le malae
Akhai akha ko bhasa le malae
Parae theya ma afno banayau
Afno banayau Afno banayau
Afno banayau
Sukha dhukha ko bhari bisaune
Sukha dhukha ko bhari bisaune
Chautari samjhera haat samayau
Haat samayau haat samayau
Haat samayau
Chautari samjhera haat samayau …….

Mutu tharthar kamdai theyo
Sochanai sakina k garu ani

Mutu tharthar kamdai theyo
Sochanai sakina k garu ani
Darae darae hera aakha
Kat rayecha maya
Dhekhachu ki bhani
Mitha mitha sapana dhekhae
Bistarai maya ko bharang chadayau
Bharang chadayau Bharang chadayau
Bharang chadayau
Sukha dhukha ko bhari bisaune
Sukha dhukha ko bhari bisaune
Chautari samjhera haat samayau
Haat samayau haat samayau
Haat samayau
Chautari samjhera haat samayau…..

Haserai sodha bina dar
Kati maya dina sakchau bhanera

Haserai sodha bina dar
Kati maya dina sakchau bhanera
Timile pani hasdai bhayau
Jati maya lina sachau bhanera
Maya preeti ko kurai kura le
Sacho maya dipa jalayau
Dipa jalayau Dipa jalayau
Dipa jalayau
Sukha dhukha ko bhari bisaune
Sukha dhukha ko bhari bisaune
Chautari samjhera haat samayau
Haat samayau haat samayau
Haat samayau
Chautari samjhera haat samayau………