Bato Pharakilo By Babu Bogati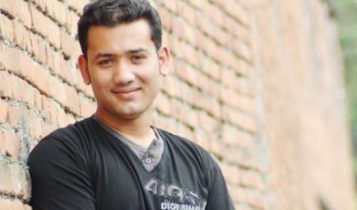 Bato Pharakilo is a Nepali sentimental song by talented singer Babu Bogati. This video of the song features Keki Adhikari and Uttam Gajamer. The video is directed by Nirmal Lama 'BG' and edited by Bharat Mani Regmi. Mr. Hari Humagai is the camera man for the music video.
The lyrics of the song Bato Pharakilo is written by Rajesh Ghatani and the music for the song was composed by Babu Bogati. The music video have the artist Keki Adhikari who is one of the well known and the elder actor of the music and film industry. She has appeared in numerous music videos, television commercials, print ads and more than a dozen of Nepali movies. She started off her career featuring in several music videos before making it into the silver screen. She made her acting debut with Swor opposite Raj Ballav Koirala. In this music video Keki performs with another handsome model Uttam Gajamer. This music video represents the story of the unsuccessful love relationship. Just listen to the song once and I guarantee you won't leave away without listening to this song more than twice or in a loop.
The video is officially released online by Tulsi Entertainment via YouTube. Here is the music video enjoy watching it.
Quoted below is the lyrics for the song Bato Pharakilo:
Bato Farakilo theo
Bato Farakilo theo
Sangai hidna sakina
Sangai hidna sakina
Galti merai theo
Tmilae chinna sakina
Galti merai theo
Tmilae chinna sakina

Tmro harek galtilae
Kahile galti manina
Tmro harek galtilae
Kahile galti manina
Afno samjhi sadhai nai
Parae kahile thanina
Parae kahile thanina
Bato Farakilo theo
Bato Farakilo theo
Sangai hidna sakina
Sangai hidna sakina
Galti merai theo
Tmilae chinna sakina
Galti merai theo
Tmilae chinna sakina

Tukra tukra vayo man
Kahilai najodine gari
Tukra tukra vayo man
Kahilai najodine gari
Ma lakhau pida sahula
Khusi hunu sadhai vari
Khusi hunu sadhai vari
Bato Farakilo theo
Bato Farakilo theo
Sangai hidna sakina
Sangai hidna sakina
Galti merai theo
Tmilae chinna sakina
Galti merai theo
Tmilae chinna sakina