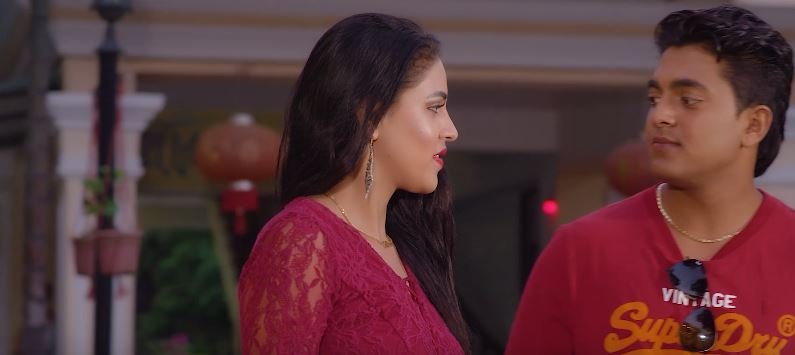 Binti Chha is a new sentimental Nepali song by Anju Panta. The music video features Erika Sharma and Sudarsan Chapagain. Binti Chha is a Nepali song which is directed by Deepika Bhatta. The music video was Cinematographed by Ram Kumar KC and edited by Kushal Sharma.
The music for this song is composed by Basanta Sapkota and lyrics was written by Dinesh Thapaliya. Binti Chha is a melodious heart touching song by Anju Panta. She is one of the famous, talented and versatile singer of Nepal. Panta has given her voice in more than hundreds of hit songs. Her melodious voice adds flavor in every song she sings. This music video shows unsuccessful love between Erika Sharma and Sudarsan Chapagain. So don't depend too much on anyone because everyone changes when they meet new persons. I am sure you will like repeating this song when you once listen to it.
This music video is officially released online by Music Nepal via YouTube. Hope you guys will enjoy this melodious sentimental song Binti Chha.

Here is the lyrics for Binti Chha:
Binti Chha aba mero
Bato ma timi na bahe dinu
Ma eklai janchu mero Yatra ma
Timi na ae dinu

Binti Chha aba mero
Bato ma timi na bahe dinu
Ma eklai janchu mero Yatra ma
Timi na ae dinu……

Eklai huda satha magyau
Sangai hinna haat magyau
Sangai bachana marne bhanau
Sabai dina raat magyau

Eklai huda satha magyau
Sangai hinna haat magyau
Sangai bachana marne bhanau
Sabai dina raat magyau
Mann diye maya diye
Timilai nai jiban diye
Tara timro swartha rayecha
Aja pheri eklo bhaye
Binti Chha aba mero
Bato ma timi na bahe dinu
Ma eklai janchu mero Yatra ma
Timi na ae dinu ……..

Timi bhantheyau maya bhanda
Thulo k cha dharti ma
Jhata dharma thulo hunna
Bhantheyau perati ma

Timi bhantheyau maya bhanda
Thulo k cha dharti ma
Jhata dharma thulo hunna
Bhantheyau perati ma
Tara sabai khel rayecha
Matra timro jobani ko
Maya lai sworya thantheya
Tara dhukha katha nai bho
Binti Chha aba mero
Bato ma timi na bahe dinu
Ma eklai janchu mero Yatra ma
Timi na ae dinu timi na bhae dinu
TImi na ae dinu ……………