Birahi Maya Adhuro Rahyo By Narayan Gopal (Audio)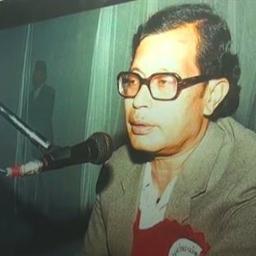 Birahi Maya Adhuro Rahyo is a Evergreen and sentimental song by Narayan Gopal. This song is The Last Song of Melody- King Narayan Gopal. The song is taken from album "Flute Tunes". Narayan Gopal is by far the most prominent and popular singer in Nepali music.
The music and lyrics for this song was written by Narayan Gopal. Narayan Gopal, who has enchanted millions of listeners by his immortal melodies. He was also known as "Tragedy King".He was also an accomplished music composer in his own right. Not only was he gifted with a great voice, he was very versatile. His voice range allowed him to sing songs of every genre. His songs are often richly orchestrated with the sitar, harmonium and the flute. Narayan Gopal had sang this song in a difficult condition as he was suffering from the problem on his throat.. When you once listen this song, I am sure you will keep singing it.
The music video is released officially online by yatrivideo via Youtube. Hope that you will enjoy this melodious evergreen Lok pop song.
Here is the lyrics for the song:
Birahi Maya Adhuro Rahayo Birsanu Kasari
Tadpai Dinchha Jalai
Dinchha Yada Aauchha Besari Ho
Yada Aauchha Besari
Birahi Maya Adhuro
Rahayo Birsanu Kasari
Tadpai Dinchha Jalai
Dinchha Yada Aauchha Besari Ho
Yada Aauchha Besari

Tapkina Khojchhan Aashuka
Thopa Godhuli Sajhama
Dhubai Gayau Yo
Jindagani Sagara Majhama
Kinara Chhaina Kinara Chhaina
Sahara Chhaina Mana Thamnu Kasari
Tadpai Dinchha Jalai
Dinchha Yada Aauchha Besari Ho
Yada Aauchha Besari

Nadi Jhai Bagne Ti Timro
Maya Jharana Jhai Jharechha
Sapana Ramne Akhama
Mero Parda Nai Khasechha
Nadi Jhai Bagne Ti Timro
Maya Jharana Jhai Jharechha
Sapana Ramne Akhama Mero Parda Nai Khasechha
Goreto Chhaina Ujyalo
Chhaina Mai Hidu Kasari
Tadpai Dinchha Jalai
Dinchha Yada Aauchha Besari Ho
Yada Aauchha Besari
Birahi Maya Adhuro
Rahayo Birsanu Kasari
Tadpai Dinchha Jalai
Dinchha Yada Aauchha Besari Ho
Yada Aauchha Besari