Dil Bhitra by Pramod Kharel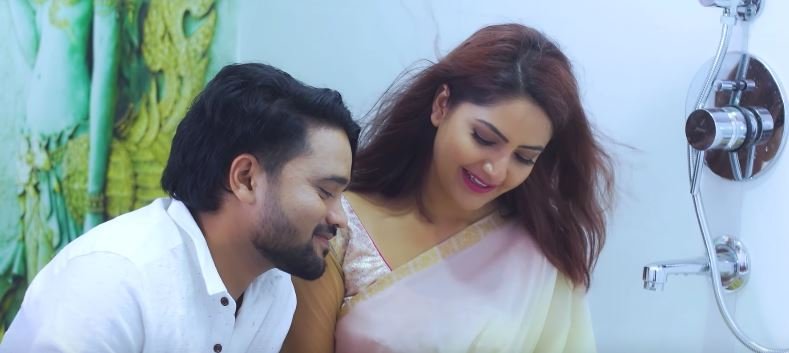 Dil Bhitra is a new Nepali aadhunik Song by Pramod Kharel. The music video features Sanam Kathayat, Barsha Siwakoti and Avi Chhetri Samarpan. Dil Bhitra is a Nepali song which is directed by Prakash Dhital. The music video was edited by Nishan Ghimire and was cinematographed by Utsav Dahal.
The music for this song composed by Santosh Shrestha and lyrics was written by Avi Chhetri Samarpan. The music video features versatile actress Barsha Shiwakoti. Nepali actress and model Barsha Siwakoti has established herself as a successful model in Nepali music video. This song show heart touching love story of true lover who were not with each other now. The vocal for this melodious song was given by versatile playback singer Pramod kharel. When you once listen this song, I am sure you will keep repeating it.
The music video is released officially online by Music Nepal via Youtube. Hope that you will enjoy this aadhunik song Dil Bhitra.
Here is the lyrics for Dil Bhitra:
Dil bhitra chha timro
Tasbir Hatauna sakdina

Dil bhitra chha timro tasbir
Jhanjhan badchhan yad haru
o hoo Jhanjhan badchhan yad haru
Gataunai sakdinama
Gataunai sakdinama
Dil bhitra chha timro
Tasbir Hatauna sakdina…….

Yo mutuma yo dhadkan ma
Baseki chhau timi

Yo mutuma yo dhadkan ma
Baseki chhau timi
Yo mutuma yo dhadkan ma
Baseki chhau timi
Jhikera aba tadha tadha
Jhikera aba tadha tadha
Pathaunai sakdina ma
Pathaunai sakdina ma
Dil bhitra chha timro
Tasbir Hatauna sakdina……

Jindagi ma timita hau
Mero afno bhane pani

Jindagi ma timita hau
Mero afno bhane pani
Jindagi ma timita hau
Mero afno bhane pani
Timi bina aklai jiban
Ho Timi bina aklai jiban
Kataunai sakdin ma
Kataunai sakdin ma
Dil bhitra chha timro
Tasbir Hatauna sakdina…………