Dinchhu Sath Bhanthyeu by Nabin Karki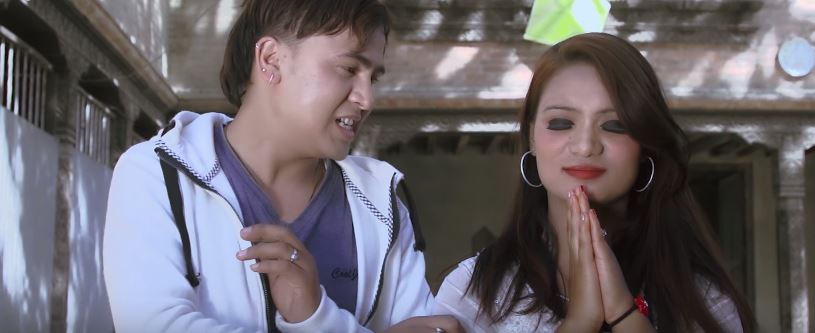 Dinchhu Sath Bhanthyeu is a new melodious modern song by Nabin Karki. The music video features Sani Sunwar, Anita Lakhe and Ranveer Magar. Dinchhu Sath Bhanthyeu is a Nepali song directed by Ekanta Magar and was edited by Ekanta Magar. This music video is beautifully filmed by cameraman E.B.P. Magar.
The music for this song was composed by Lila Srada and lyrics was written by Prayas Dumi Rai. This song want to deliver the message that love is invisible we cannot touch or see just we can feel it. So, we say that love is blind. And whole this song was based under the blind love which has given pain to the actor who is playing the role of broken heart. This songs represents how some peoples are attracted towards the wealth and money by breaking down the source of happiness that is pure loving heart. When you once listen this song, I am sure you will keep repeating it.
The music video is released officially online by SongsNepal via Youtube. Hope that you will enjoy this melodious modern songs Dinchhu Sath Bhanthyeu.
Here is the lyrics for Dinchhu Sath Bhanthyeu:
Dinchhu Sath Bhanthyeu
Satau juni lai
Garo bhacha autai
Juni katna lai

Dinchhu Sath Bhanthyeu
Satau juni lai
Garo bhacha autai
Juni katna lai
K pugena timro lagi
Chodi gayau abhar parau
Chodi gayau abhar parau
Attita banayau
Paelo mayalai……..

Timro lagi khusi kinne
Payau hola rata

Timro lagi khusi kinne
Payau hola rata
Koe kasai ko dil la
Bitra chayau hola rata
Koe kasai ko dil la
Bitra chayau hola rata
Sahasa gardai chhu
Betha bhulauna lai
Sahasa gardai chhu
Ashu lukauna lai
Sahasa gardai chhu
Betha bhulauna lai
Sahasa gardai chhu
Ashu lukauna lai
Mero paelo maya ko
Yaad metauna lai……

Timro samu duniya
Theya hola ra ta

Timro samu duniya
Theya hola ra ta
Herda herdai parae ko
Bhaediyau timi ta
Herda herdai parae ko
Bhaediyau timi ta
Prayas gardai chhu
Mutu chutauna lai
Prayas gardai chhu
Mann bata hatauna lai
Prayas gardai chhu
Mutu chutauna lai
Prayas gardai chhu
Mann bata hatauna lai
Timro jhuto maya ko
Upahar pathauna lai………