Garyo Ghat by Pramod Kharel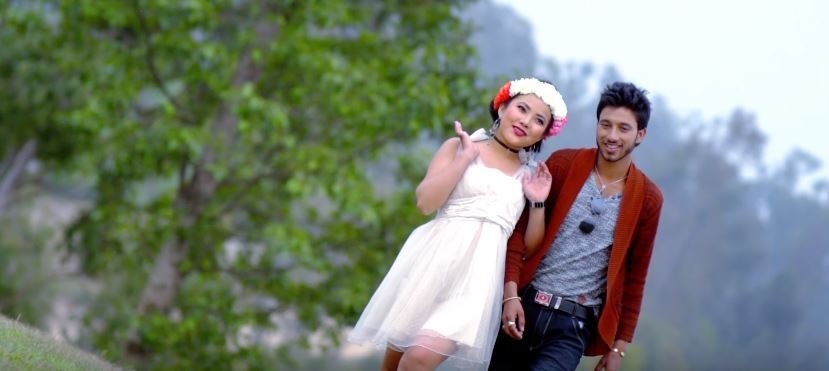 Garyo Ghat is a new aadhunik song by Pramod Kharel. The music video features Dipak and Susmita. Garyo Ghat is a Nepali song which is directed by Sajina Lamichhane. The music video was cinematographed by Mukesh Humagai and was edited by Mek Bdr Thapa.
The music for this song was composed by Dipak Budha Magar and lyrics was written by Samir Samip and Dipak Budha Magar. Pramod Kharel is a one of the established and much-loved singer who has given his melodious voice in different music video. Garyo Ghat is one of the aadhunik song where outstanding performance was given by versatile actress Susmita and she was supported other other talented model Dipak. This song deliver the message that don't depend too much on anyone, everyone changes when they meet new person. Hope that you will enjoy this music video.
The music video is released officially online by Music  Nepal via Youtube. Hope that you will enjoy this melodious song Garyo Ghat.
Here is the lyrics for Garyo Ghat:
Garyo Ghat aakha chimli
Biswas dilaune le

Garyo Ghat aakha chimli
Biswas dilaune le
Maya marna sikaenau
Maya garna sikaune le
oo Maya marna sikaenau
Maya garna sikaune le
K ho k ho maya
kasto huncha thahai theyana
Bhujhado rayecha
Artha piyar ko
Pauna bhanda ghumaune le……..

Khusi lute tadha bhayau
Kaso gari hasnu maela

Khusi lute tadha bhayau
Kaso gari hasnu maela
Jiudo las nai bhachhu priya
Artha chaena bachana maela
Artha chaena bachana maela
Kaso gari samjhi fiyakau
Mutu bitra sajhaune le
Maya marna sikaenau
Maya garna sikaune le
oo Maya marna sikaenau
Maya garna sikaune le……..

Galti kae theyo ki mero
Khoto theyo ki maya

Galti kae theyo ki mero
Khoto theyo ki maya
Timi samip na huda ni
Dhekhachu timro matra chaya
Timi samip na huda ni
Dhekhachu timro matra chaya
Uta haso chardai hauli
Yeta ashu pilaune le
Maya marna sikaenau
Maya garna sikaune le
oo Maya marna sikaenau
Maya garna sikaune le
K ho k ho maya
kasto huncha thahai theyana
Bhujhado rayecha
Artha piyar ko
Pauna bhanda ghumaune le…………