Hamlai Pani by Nandu Gurung Ft. Neesaa Embung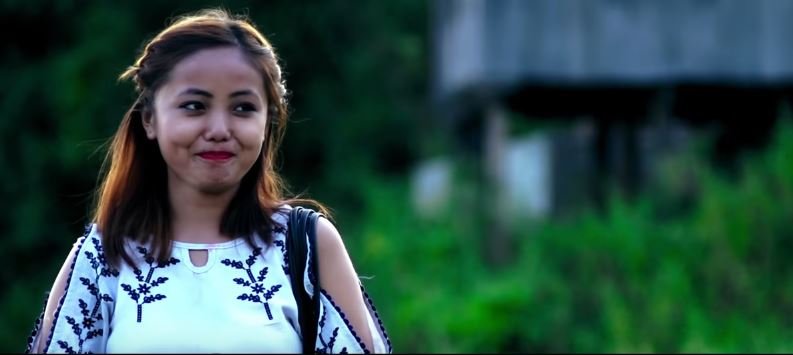 Hamlai pani is a New Aadhunik Nepali Romantic pop song from Album "JAMARKO". The music video features Neesaa Embung and Yogendra Rai. Hamlai pani is a Nepali song by Nandu Gurung which is directed by Santosh Rai. Hamlai pani was edited by Bigyan Rai.
The music video of this song was arranged by Pabidhan Khaling and lyrics was given by Dev Gurung. The music video is featuring by versatile Neesaa Embung. This is the romantic love story song. When you once listen this song, I am sure you will keep repeating it. Overall, Nandu Gurung's Hamlai pani is a nice and soothing song with great melody.
The music video is released officially online by SongsNepal via Youtube. Hope that you will enjoy this Melodious pop Song Hamlai pani.

Here is the lyrics for the song:
Hamlai pani
Heridau na
Ye saili
hoo
Timro dil ko
Dhoka kholi

Hamlai pani
Heridau na
Timro dil ko
Dhoka kholi

Hamlai pani
Heridau na
Timro dil ko
Dhoka kholi
Maya diula
Khusi diula
Jiyanai diula
Timilai bhani
Dhukha liula
Sukha diula
Yo Jiyan diula
Timilai bhani
Maya diula
Khusi diula
Jiyanai diula
Timilai bhani
Dhukha liula
Sukha diula
Yo Jiyan diula
Timilai bhani…

Timro to rupa ko
Ta kurai chadau
Mohani mantra la
Lagcha tanau

Timro to rupa ko
Ta kurai chadau
Mohani mantra la
Lagcha tanau
Arkai ki hunchau ki
Bhanna pir la
Arkai ki hunchau ki
Bhanna pir la
Chatpati badcha lu
Ma k garu
Chatpati badcha lu
Ma k garu
Chadak najar heridinchau
Kadha tir la hana sari
hahah
Chadak najar heridinchau
Kadha tir la hana sari
Aashu liula
Haso diula
Jiyanai diula
Timilai bhani
Dhukha liula
Sukha diula
Yo Jiyan diula
Timilai bhani…

Ma pani ramrai
Khul ghar ko ho ni
Bau aama liyara
Magna au ki

Ma pani ramrai
Khul ghar ko ho ni
Bau aama liyara
Magna au ki
Parae lai Dincha
Ki bhanna pir la
Parae lai Dincha
Ki bhanna pir la
Khulduli badcha
Ma K garum
Tarki tarki
Hididinchau bato
Autai vaya pani
hahah
Tarki tarki
Hididinchau bato
Autai vaya pani
Juni juni Satha
Diula jiyanai diula
Timilai bhani
Sadai bhari khusi
Diula yo jiyana
Diula Timilai bhani…

Hamlai pani
Heridau na
Timro dil ko
Dhoka kholi

Hamlai pani
Heridau na
Timro dil ko
Dhoka kholi
Maya diula
Khusi diula
Jiyanai diula
Timilai bhani
Dhukha liula
Sukha diula
Yo Jiyan diula
Timilai bhani
Aashu liula
Khusi diula
Jiyanai diula
Timilai bhani
Sadai bhari khusi
Diula yo jiyana
Timilai bhani…