Handsome Body Wala by Melina Rai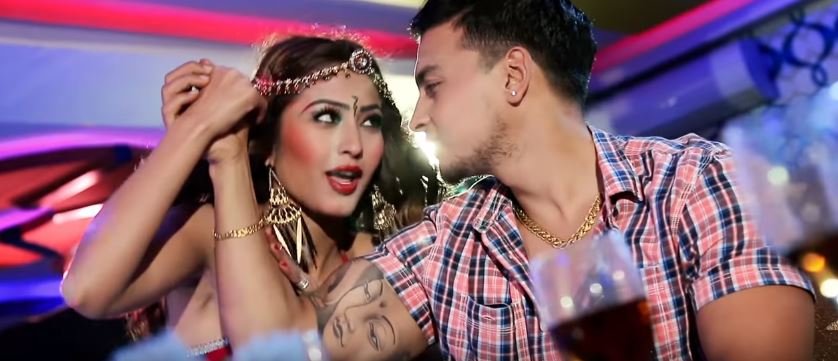 Handsome Body Wala is a New Nepali Most Melodious Aadhunik Romantic pop Song by Melina Rai. The music video features by Anjali Adhikari & Bharat Adhikari. Handsome Body Wala is a Nepali song by Melina Rai which was directed by Prakash Bhatta. Handsome Body Wala Music video was cinematographed by Kiran Chaisir and music video was edited by Bishnu Sharma.
The music of this song is composed by Ek Narayan Bhandari and lyrics of this song was written by Prem Bishwokarma. Nepali singer Melina Rai is playback singer. Melina Rai's voice is as beauty as her personal appealing. She is a good singer who think a lot of different things in a performance. Handsome Body Wala is a romantic song in which we can see the romance between Anjali Adhikari & Bharat Adhikari. Here, we can see the Anjali Adhikari in a hot and sexy role. When you once listen this song, I am sure you will keep repeating it.
The music video is released officially online by Music Nepal via Youtube. Hope that you will enjoy this Melodious Aadhunik Song Handsome Body Wala.

Here is the lyrics for the song:
Handsome Body Wala
Pani haina timi
Khasai rupa ranga
Ko chaenau timi
Teti dherai dhani
Mani haina timi
Padhae ma aball
Pani chaenau timi
haa
Handsome Body Wala
Pani haina timi
Khasai rupa ranga
Ko chaenau timi
Teti dherai dhani
Mani haina timi
Padhae ma aball
Pani chaenau timi
Thikai chha thikai chha
Sabai kura thikai chha
Tara mero timilai
Maya nikai chha
Tara mero timilai
Maya nikai chha
Tara mero timilai
Maya nikai chha
Tara mero timilai
Maya nikai chha…

Bhagya ma ta chauki
Chaenau timi mero
Bihe garna ho
Bhanaka chan ghar ma mero
Bhanum bhana risauna po
Hau ki timi
Anta katai aru saga
Chau Ki timi
haa
Bhagya ma ta chauki
Chaenau timi mero
Bihe garna ho
Bhanaka chan ghar ma mero
Bhanum bhana risauna po
Hau ki timi
Anta katai aru saga
Chau Ki timi
Kaso gari bhanum
Manai ko kura
Timrai name ko
Launa mann cha
Sindur chura
Thikai chha thikai chha
Sabai kura thikai chha
Tara mero timilai
Maya nikai chha
Tara mero timilai
Maya nikai chha
Tara mero timilai
Maya nikai chha
Tara mero timilai
Maya nikai chha…

Ori pari aucha timro
Chaya bani
Kina lagcha yeti
Dherai maya pani
Mero pani chokho
Jowan khali khali
Banauchau ki malae
Timro dil ko mali
hoo
Bhana dhekhi timro
Dil lai ko mali
Jugau bhari baschu
Bharu kasam hali
Thikai chha thikai chha
Sabai kura thikai chha
Tara mero timilai
Maya nikai chha
Tara mero timilai
Maya nikai chha
Tara mero timilai
Maya nikai chha
Tara mero timilai
Maya nikai chha…

Jata tatai timro mero
Kura chalcha
Tadai chhau ki katai
Timi mutu jhal chha
Timilai maela mann
Parae sake
Kalpana ko sansar
Ma harae sake
oeeee
Jata tatai timro mero
Kura chalcha
Tadai chhau ki katai
Timi mutu jhal chha
Timilai maela mann
Parae sake
Kalpana ko sansar
Ma harae sake
Binti sadai bhari
Samau mero haat
Palpal harpal ma ta
Hunchu timrai satha
Thikai chha thikai chha
Sabai kura thikai chha
Tara mero timilai
Maya nikai chha
Tara mero timilai
Maya nikai chha
Tara mero timilai
Maya nikai chha
Tara mero timilai
Maya nikai chha…