Hey Nisthuri by Pramod Kharel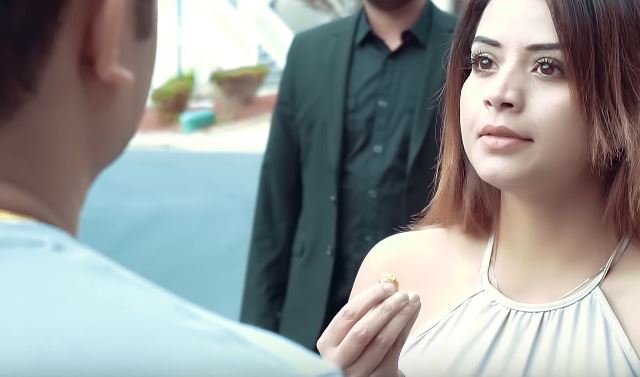 Hey Nisthuri is a sentimental song by Pramod Kharel. The music video features Neeta Dhungana and GD Poudel. Hey Nisthuri Nepali song is directed by Anup Giri. The music video was Cinematographed by Sandip and Prabin Basnetkaazi and was edited by Birendra Bhat "Bipin".
The music for this song was composed by Deepak Sharma and lyrics was written by Dirgha Narayan. This music video tries to deliver message that don't lie to people that trust you, and don't trust people that lie to you. Pramod Kharel is a one of the established and much-loved singers in Nepali music industry. Pramod Kharel is a playback singer. His many recorded song are popular. Overall, The talented and hot model Neeta Dhungana and GD Poudel have given their best performance. When you once listen this song, I am sure you will keep repeating it.
The music video is released officially online by Music Nepal via Youtube. Hope that you will enjoy this melodious sentimental song Hey Nisthuri.
Here is the lyrics for Hey Nisthuri:
Hey Nisthuri Timi
Kaha chau
Ek choti bhet naa
Mann cha
Hey Nisthuri Timi
Kaha chau
Ek choti bhet naa
Mann cha
Yo mutu dhukauna timi
Sanga ko sambanda sodna
Mann cha
Hey Nisthuri Timi
Kaha chau……..

Harchu chitiz pari
Timi lai kahi katai
Chau ki bhane badal
Sangai timi poni
Barsa bane jharchu
Ki bhane

Harchu chitiz pari
Timi lai kahi katai
Chau ki bhane badal
Sangai timi poni
Barsa bane jharchu
Ki bhane
Hey Nisthuri Timi
Kaha chau……..

Sangai jeuna sangai
Marna kasam poni tutu
Aja heda heedai bich
Bato mai sahayatri
Chuto aja

Sangai jeuna sangai
Marna kasam poni tutu
Aja heda heedai bich
Bato mai sahayatri
Chuto aja
Hey Nisthuri Timi
Kaha chau
Ek choti bhet naa
Mann cha
Yo mutu dhukauna timi
Sanga ko sambanda sodna
Mann cha
Hey Nisthuri Timi
Kaha chau…………