Hijo Samma by Ram Krishna Dhakal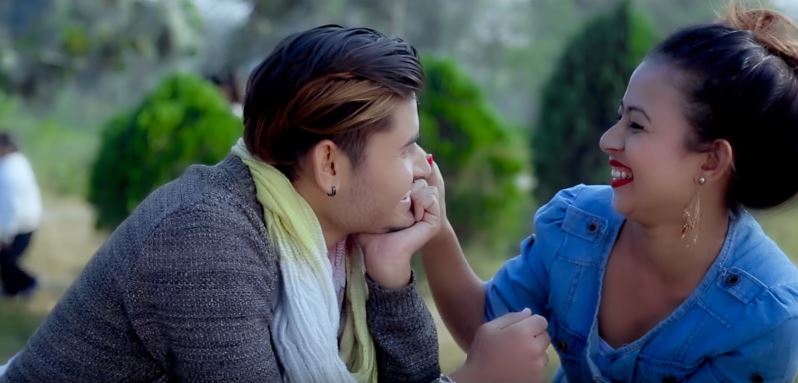 Hijo Samma is a New Nepali Romantic Aadhunik Sentimental pop song from Album "JALAN". The music video features Saru, Santosh and Prakash. Hijo Samma is a Nepali song by Ramkrishna Dhakal which is directed by Bhupal Bantawa. Hijo Samma music video was edited by Heman Tamang.
The music of this song was composed by Shakti Ballav and lyrics of this song was written by Ram Hari Aryal. Ramkrishna Dhakal is one of the most popular and talented pop, playback singer and actor. Ramkrishna Dhakal is consider as second late NaranyanGopal, who is respected as the king of melody in the Nepali music world. He has released many albums of modern songs among them "JALAN" is one of the collection of  best song album of him.
The music video is released officially online by SongsNepal via Youtube. Hope that you will enjoy this Melodious Aadhunik pop song Hijo Samma.

Here is the lyrics for the song:
Hijo samma
Sagai theyau
Aja bholi kata gayau

Hijo samma
Sagai theyau
Aja bholi kata gayau
Dherai khojha
Baiguni timilai
Malae chodi
Kasko bhayau
Hijo samma
Sagai theyau
Aja bholi kata gayau…

Maya basna
Garo huncha
Basa pachi
Chutnai garo

Maya basna
Garo huncha
Basa pachi
Chutnai garo
Kasko maya
Payau timila
Mero bhanda ni piyaro
Hijo samma
Sagai theyau
Aja bholi kata gayau…

Kina chitta
Dhukhayo timro
k kura ko
Apuga vayo

Kina chitta
Dhukhayo timro
k kura ko
Apuga vayo
Maela maya
Garda gardai
kun papi la
Chori lagyo
Hijo samma
Sagai theyau
Aja bholi kata gayau…

Timro tasbir
Mutu bitra jatan
Gari rakhako chu

Timro tasbir
Mutu bitra jatan
Gari rakhako chu
Kaela kae nasro lagda
Mutu chiri herna garchu
Hijo samma
Sagai theyau
Aja bholi kata gayau
Hijo samma
Sagai theyau
Aja bholi kata gayau

Dherai khojha
Baiguni timilai
Malae chodi
Kasko bhayau
Hijo samma
Sagai theyau
Aja bholi kata gayau…