Jane Belamaa by Baba Pakhrin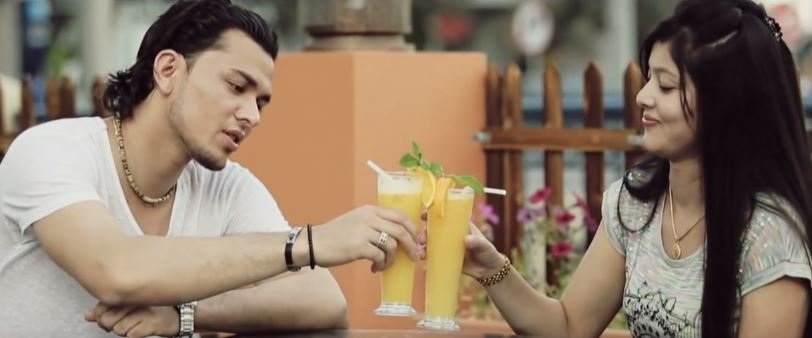 Jane Belamaa is a new Nepali pop song by Bhabin Limbu. The music video features Bikram and Sonam. Jane Belamaa Nepali song was directed by Phurba Sherpa. The music video was edited by H.O.P.E. and was cinematographed by Sagar Pradhan and Sanoj Maharjan.
The lyrics for the song was written by Amir Tamang and the music was composed by Lanam Tamang and music video was arranged by Mahasatwa Bajracharya. The music video features versatile model Sonam. Sonam is a hot and sexy model who has given her best performance for making this music video good. Jane Belamaa is very interesting and sentimental pop song in which we can see short time love between Bikram and Sonam. This music video was presented by PHURBA SHERPA PRODUCTION FILM. When you once listen this song, I am sure you will keep repeating it.
The music video is released officially online by PHURBA SHERPA via Youtube. Hope that you will enjoy this pop song Jane Belamaa.
Here is the lyrics for the song Jane Belamaa:
Sochekai pani thiyena
Yo din aauchha ki bhanera
Sochekai pani thiyena
Yo din aauchha ki bhanera
Kshanik samayako laagi
Mero jeevanma timi
Chhaauchhau ki bhanera
Kshanik samayako laagi
Mero jeevanma timi
Chhaauchhau ki bhanera
Jaane bela maa farki herinau
Farkinchhau ki farkinnau
Kehi bhaninau
Jaane bela maa farki herinau
Farkinchhau ki farkinnau
Kehi bhaninau

Pal palmaa timro saath thiye
Pal palmaa timro saath thiye
Timro laagi bees pani
Amrit samjhi piyethe
Timro laagi bees pani
Amrit samjhi piyethe
Jaane bela maa farki herinau
Farkinchhau ki farkinnau
Kehi bhaninau
Jaane bela maa farki herinau
Farkinchhau ki farkinnau
Kehi bhaninau

Janam janamko laagi
Saacheko thiyou haamro maya
Janam janamko laagi
Saacheko thiyou haamro maya
Bitholidiyou mera sara sapana
Pal pal ma timro saath thiye
Pal pal ma timro saath thiye
Timro laagi bees pani
Amrit samjhi piyethe
Timro laagi bees pani
Amrit samjhi piyethe
Jaane bela maa farki herinau
Farkinchhau ki farkinnau
Kehi bhaninau
Farkinchhau ki farkinnau
Kehi bhaninau
Farkinchhau ki farkinnau
Kehi bhaninau