Jun Sait Ma by Raman Regmi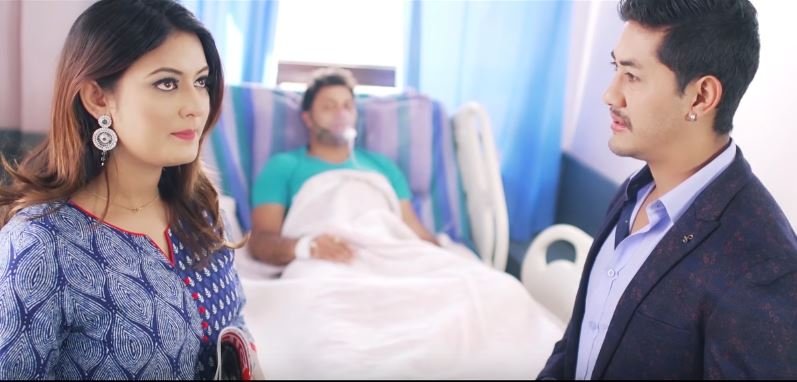 Jun Sait Ma is a New Aadhunik Melodious Nepali pop song from album "Bhogai". The music video features are Pushkar and Barsha Raut. Jun Sait Ma is a Nepali song by Raman Regmi  which is directed by Nikesh Khadka. Jun Sait Ma music video was cinematographed by Arjun Tiwari & Team and music video was edited by Bhart Regmi.
The music of this song was composed by Laxman Shesh and lyrics was written by Devdatta Bhatta. The music video is featuring by versatile actress Barsha Raut. Nepali actress and model Barsha Raut has established herself as a successful model in Nepali music video. She featured in more than 100 music videos and ads, Barsha is the hot cake in Nepali music video industry. Jun Sait Ma is a painful song when someone special person will leave you alone in this world.
The music video is released officially online by HighlightsNepal via Youtube. Hope that you will enjoy this Melodious pop Song Jun Sait Ma.

Here is the lyrics for the song:
Jun Sait Ma
Bhaya pani
Timrai samu parna paye
Timrai samu parna paye
Khusi chu ma
Aaja sarai
Hasi hasi marna paye
Hasi hasi marna paye
Jun Sait Ma
Bhaya pani…

Bhetda bolyau
Tyo mann kholau
Rayachau sayad
Bhagya mani
Samjhi dau Antya bhayo
Auta dhukhi jindagani

hoo
Bhetda bolyau
Tyo mann kholau
Rayachau sayad
Bhagya mani
Samjhi dau Antya bhayo
Auta dhukhi jindagani
Antya ko yae
Ghadi samae
hooo
Antya ko yae
Ghadi samae
Baitayadi tarna paye
Antya ko yae
Ghadi samae
Baitayadi tarna paye
Khusi chu ma
Aja sarai
Hasi hasi marna paye
Hasi hasi marna paye
Jun Sait Ma
Bhaya pani…

Ekai chin ko
Gham chaya jhai
Bhetinu chutinu Rayecha
Sacho maya garda
Gardai diya yo
Matinu rayacha

hooo
Ekai chin ko
Gham chaya jhai
Bhetinu chutinu Rayecha
Sacho maya garda
Gardai diya yo
Matinu rayacha
Amar hola ya na hola
hooooo
Amar hola ya na hola
Maya akhir garna paye
Amar hola ya na hola
Maya akhir garna paye
Khusi chu ma
Aja sarai
Hasi hasi marna paye
Hasi hasi marna paye
Jun Sait Ma
Bhaya pani

Khusi chu ma
Aja sarai
Hasi hasi marna paye
Hasi hasi marna paye
Jun Sait Ma
Bhaya pani……