Kaso Gari Maya Basyo (Audio) by Kamana Prasain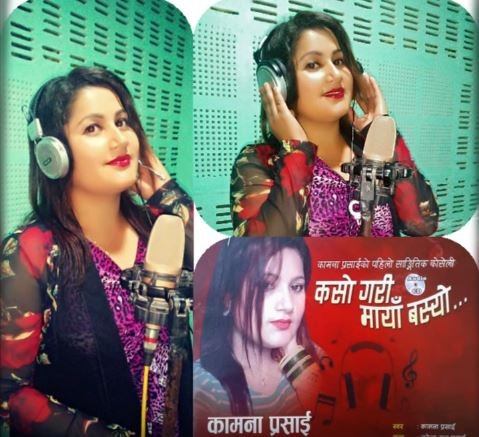 Kaso Gari Maya Basyo is a New Aadhunik Sentimental Nepali pop song by Kamana Prasain. Kamana Prasain ia a playback singer. Kamana Prasain has contributed her Melodious voice in many Nepali music video. This music video is just a simple audio version during the recording of the song.
The music of this song is composed by Tika Bhandari and lyrics of this song was written by Narendra Raj Prasain. Kaso Gari Maya Basyo one of the most heart touching Nepali song. She always asked the question to herself how she had given her heart to such a people who doesn't respect her. Kaso Gari Maya Basyo was post production by SathiBhai Digital Music Pvt. Ltd.
The music video is released officially online by SongsNepal via Youtube. Hope that you will enjoy this Melodious Song Kaso Gari Maya Basyo.

Here is the lyrics for the song:
Kaso Gari Maya Basyo
Timi bitra bitrai

Kaso Gari Maya Basyo
Timi bitra bitrai
Timro rupa tasiyecha
Mutu bitra bitrai
Timro rupa tasiyecha
Mutu bitra bitrai
Kaso Gari Maya Basyo…

Bheti rahu jasto lagcha
Boli rahu jasto

Bheti rahu jasto lagcha
Boli rahu jasto
Luki luki timilai
Heri rahu jasto
Luki luki timilai
Heri rahu jasto
Kaso Gari Maya Basyo
Timi bitra bitrai
Timro rupa tasiyecha
Mutu bitra bitrai
Timro rupa tasiyecha
Mutu bitra bitrai…

Jaha hamro milan bhayo
Tehi parkhi basako chu

Jaha hamro milan bhayo
Tehi parkhi basako chu
Heri yeta kolta gari
Timilai nai rakhako chu
Heri yeta kolta gari
Timilai nai rakhako chu
Kaso Gari Maya Basyo
Timi bitra bitrai
Timro rupa tasiyecha
Mutu bitra bitrai
Timro rupa tasiyecha
Mutu bitra bitrai
Kaso Gari Maya Basyo……