Khadai Nakhako Bishle By Nabin K Bhattarai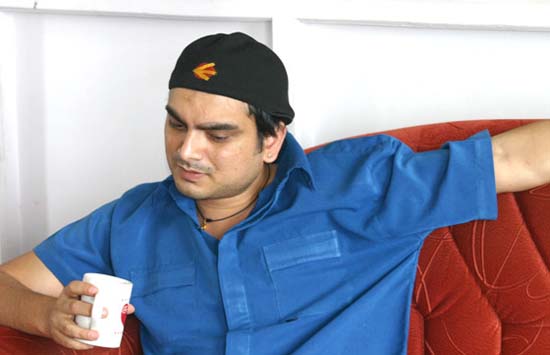 Khadai Nakhako Bishle is a Melodious Nepali  pop song by Nabin K Bhattarai. The song is taken from the Nabin K Bhattrai's album "Nabin". Khadai Nakhako Bishle is a Nepali song by Nabin K Bhattarai is about the love life of teen age.
The music and lyrics of this song is written by Nabin K Bhattarai. He is a one of the popular and well known pop singer of Nepal. His many recorded song are popular. Khadai Nakhako Bishle is a heart touching sentimental song. Nabin has a clear-cut goal of becoming a mature musician someday.He is whole-heartedly attending music classes at Kathmandu University. Nabin admires the beauty and power of nature. When the sun ducks behind the hills and darkness sets in , he loves to lie down underneath the open sky and watch the stars popping out. Nabin is essentially a lover of peace. He believes that neither wealth nor fame can out weight the blessing of peace. I suggest you guys, to listen this song.
The music video is released officially online by Thapakaji II via Youtube. Hope that you will enjoy this Melodious Aadhunik Sentimental pop Song Khadai Nakhako Bishle.
Here is the lyrics for the song:
Khadai na khako bis le jiundia maryo
Boldai na bole ni baatha lagyo
Khadai na khako bis le jiundia maryo
Boldai na bole ni baatha lagyo
Maan ko kura maan mai rakhda
Chhati bhari betha bagchha
Yehi betha sadak majh ma
Sasto katha
Hanso banchha
Khadai na khako bis le jiundia maryo

Ansu khasayera maya ko bheek magda
Ulto po daya paye chhu
Sangi lai pir parda
Chita ma ma jalda
Ulto po tali paye chhu
Ulto po tali paye chhu
Ulto po tali paye chhu
Khadai na khako bis le jiundia maryo

Hamro maya badnami ko chhita
Aafai balyou eijat ko chita
Hamro maya badnami ko chhita
Aafai balyou eijat ko chita
Maan ko kura maan mai rakhda
Chhati bhari betha bagchha
Yehi betha sadak majh ma
Sasto katha hanso banchha
Khadai na khako bis le jiundia maryo

Sangi lai pir parda
Chita ma ma jalda
Ulto po tali paye chhu
Ansu khasayera maya ko bheek magda
Ulto po daya paye chhu
Ulto po tali paye chhu
Ulto po tali paye chhu
Khadai na khako bis le jiundia maryo

Khadai na khako bis le jiundia maryo
Boldai na bole ni baatha lagyo
Khadai na khako bis le jiundia maryo
Boldai na bole ni baatha lagyo…