Khuttai Dhoga by Swaroop Raj Acharya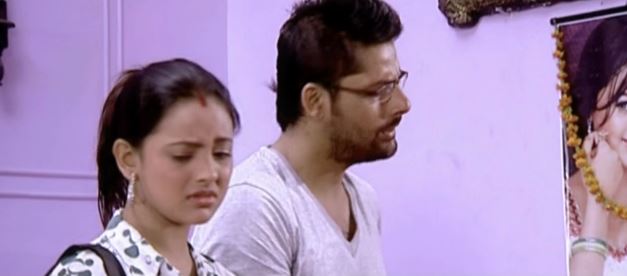 Khuttai Dhoga is aadhunik song by Swaroop Raj Acharya. The music video features Mukesh, Anju and Karna. Khuttai Dhoga is a Nepali song which is directed by Munal Shirshir. The music video edited by Tekendra Shah and cinematographed by Bidur Pandey.
The music for this song is composed by Shree Krishna Bam Malla and lyrics was written by Bipin Kiran. Swaroop Raj Acharya was a playback singer. He has given his melodious voice for many films and Nepali melodious songs. Khuttai Dhoga is emotional sad song. This song shows don't think, care, love and believe too much those person who play with your feeling. Overall, this song shows that never avoid the person who loves you truly because Nowadays it's hard to get a true love. When you once listen this song, I am sure you will keep repeating it.
The music video is released officially online by Music Nepal via Youtube. Hope that you will enjoy this melodious song Khuttai Dhoga.
Here is the lyrics for Khuttai Dhoga:
Khuttai dhoga paau
Para timro maya
Suekar dena ma ho
Khuttai dhoga paau
Para timro maya
Suekar dena ma
Baru mutu chuda
Baru mutu chuda
Aati nai gara tyo
Sananchu jiveen sanga
Dhaat dee na ma
Khuttai dhoga paau
Para timro maya
Suekar dena ma ……..

Jati runu royesaka
Aaba runu chayena malai

Jati runu royesaka
Aaba runu chayena malai
Bachna sakchu ma timro
Bahupa ma baru aafnai
Mutu jahalai
Hata joda binti gara
Jutu bacha suekardena ma
Hata joda binti gara
Jutu bacha suekardena ma
Baru haso khosa
Baru haso khosa
Galat nai socha
Tyo sahanchu jiveen
Sanga hardena ma
Khuttai dhoga paau
Para timro maya
Suekar dena ma ………

Timi lai khusi parna
Poni aafnai mann lai
Kati bhachha

Timi lai khusi parna
Poni aafnai mann lai
Kati bhachha
Saath dina lai timi
Chayenau bha khusi
Ma ekalai hasa
Thaag gara tapaseya gara
Jhalai maya suyekardena ma
Thaag gara tapaseya gara
Jhalai maya suyekardena ma
Baru galai rata
Baru galai rata
Jiveen nai mata
Tyo sahanchu jiveen
Sanga hardena ma
Khuttai dhoga paau
Para timro maya
Suekar dena ma…………