Kina kurnu by Ananda Karki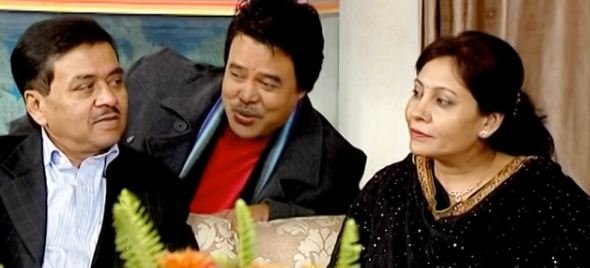 Kina Kurnu is an aadhunik Nepali song by Ananda Karki. This music video features Ananda Karki and Srijana Thapa. The lyric for this song was written by Milan Koirala while the music was composed by Hari Lamsal.
Kina Kurnu is a beautiful video song that expresses an intense pain of betray. The song says here, why to show love when there is no such kind of feeling? Why it is that the one whom we love the most hurts the most? Why do people cheat when they know that the thing's gonna hurt them too? It is so unfair that despite the true love people get, why do they abuse it? Though we give them immense love, affection, attachment & everything they desired why do they betray back? This song utters more about devastating break ups and hatred. Nonetheless, you will find something satisfactory on the last part of music video that you will know only after watching this video song. I am sure, you guys will love this music video and tune repeatedly once after you hear it.
The music video is officially released online by Music Nepal via YouTube. Hope you people will enjoy this beautiful song "Kina Kurnu".
Lyrics for Kina Kurnu;
Hmmm hoo aahhaa

Hmmm hoo aahhaa

Kina kurnu saaj aakhir

 Piunai pare pachhi

Kina kurnu saaj aakhir piunai pare pachhi

Kina rojnu sath eklai

Kina rojnu sath eklai

Jiunai pare pachhi

Jiunai pare pachhi

Kina kurnu

kina kurnu saaj aakhir piunai pare pachhi

 

 Jatan gari rakhe pani

Fatna sakchha mann bhanthe

 Ho jatan gari rakhe pani

Fatna sakchha mann bhanthe

Jatan gari rakhe pani

Fatna sakchha mann bhanthe

Samhalera rakhina mann siunai pare pachhi

Samhalera rakhina mann siunai pare pachhi

Kina rojnu sath eklai

Kina rojnu sath eklai

Jiunai pare pachhi

Jiunai pare pachhi

Kina kurnu

Kina kurnu saaj aakhir piunai pare pachhi

 

 Dherai aaye chautari ma

Sustayera jaau bhanne

 Ho dherai aaye chautari ma

Sustayera jaau bhanne

Dherai aaye chautari ma

Sustayera jaau bhanne

Bisaina paila katai hidnai pare pachhi

Bisaina paila katai hidnai pare pachhi

Kina rojnu sath eklai

Kina rojnu sath eklai

Jiunai pare pachhi

Jiunai pare pachhi

Kina kurnu

A kina kurnu saaj aakhir piunai pare pachhi

 

 Mero bhaag ko sara khusi

Timi le nai luti hideu

 Ho mero bhaag ko sara khusi

Timi le nai luti hideu

Mero bhaag ko sara khusi

Timi le nai luti hideu

Kina rakhchhau baki thorai linai pare pachhi

Kina rakhchhau baki thorai linai pare pachhi

Kina rojnu sath eklai

kina rojnu sath eklai

Jiunai pare pachhi

Jiunai pare pachhi

Kina kurnu

A kina kurnu saaj aakhir piunai pare pachhi

 

Hmmm hoo aahhaa

Hmmm hoo aahhaa