Ma Bina Ni by Pramod Kharel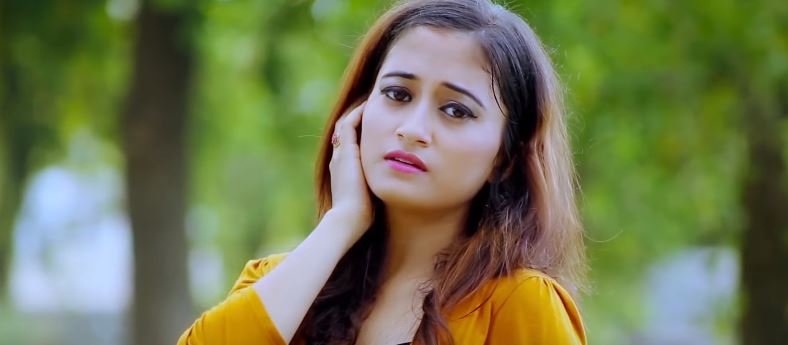 Ma Bina Ni is a new aadhunik song by Pramod Kharel. The music video features Roshani, Nabin and Ramesh. Ma Bina Ni song which is directed by Bishnu Bhattrai. The music video was cinematographed and edited by Bishnu Bhattrai himself.
The music for this song was composed by Subash Bhusal and lyrics was written by Sangam Sagar Nepal. Pramod Kharel is a one of the established and much-loved singers in Nepali music industry. Pramod Kharel is a playback singer. His many recorded song are popular. This music video tries to deliver message that don't lie to people that trust you, and don't trust people that lie to you. Overall, The talented and hot model Roshani, Nabin and Ramesh have given their best performance. When you once listen this song, I am sure you will keep repeating it.
The music video is released officially online by Music Nepal via Youtube. Hope that you will enjoy this melodious aadhunik song Ma Bina Ni.
Here is the lyrics for Ma Bina Ni:
Ma Bina Ni hasa bhanchau
Kaso gari hasu bhana

Ma Bina Ni hasa bhanchau
Kaso gari hasu bhana
Aafnai mutu aantai sari
Kaso gare bachu bhana
Aafnai mutu aantai sari
Kaso gare bachu bhana
Ma Bina Ni hasa bhanchau……

Maya gara aafnai thani
Maya la nai bhule gayau

Maya gara aafnai thani
Maya la nai bhule gayau
Thahai na paye
Sangai hedana
Thahai na paye
Sangai hedana
Bato aantai mode deyau
Aaru sanga mann mutu
Kasari ma satum bhana
Aafnai mutu aantai sari
Kaso gare bachu bhana
Aafnai mutu aantai sari
Kaso gare bachu bhana
Ma Bina Ni hasa bhanchau…….

Dhuka baru roye dintheya
Yaad la mutu jalako cha

Dhuka baru roye dintheya
Yaad la mutu jalako cha
Setal dina chahari la
Setal dina chahari la
Aanayesai polako cha
Palaya ka muna rakhara
Kaso gare bachu bhana
Aafnai mutu aantai sari
Kaso gare bachu bhana
Aafnai mutu aantai sari
Kaso gare bachu bhana
Ma Bina Ni hasa bhanchau………