Ma Ladeko Matra Hoon by Ram Krishna Dhakal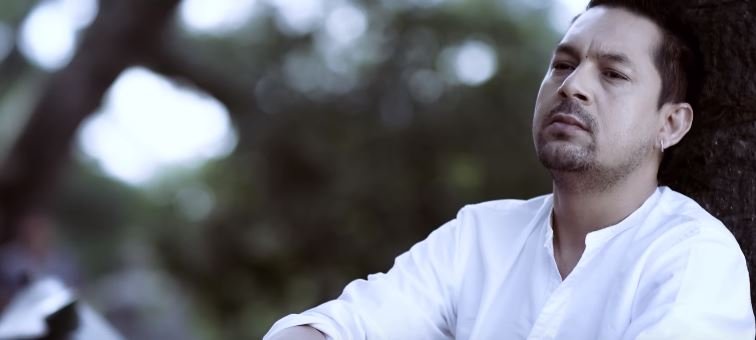 Ma Ladeko Matra Hoon is a Nepali modern song from album "Aawaran". The music video features Raaj Neupane, Rani Dhakal and Pralap Tamang. Ma Ladeko Matra Hoon is a Nepali song by Ram krishna Dhakal which is directed by Nikesh Khadka. This music video was edited by Nishan Ghimire and cinematographed by Arjun Tiwari & team.
The music for the song was composed by Hari Lamsal and lyrics was written by Manish Basistha. The voice for this song was given by Ram krishna Dhakal who is one of the most popular and talented pop, playback singer and actor. Ma Ladeko Matra Hoon is informative song which shows the present condition of Nepal. This song want to show that don't loose your hope until last stage because one day you will be success in your life if you tries again and again. When you once listen this song, I am sure you will keep tuning it.
The music video is released officially online by Bindabasini Music via Youtube. Hope that you will enjoy this modern song Ma Ladeko Matra Hoon.
Here is the lyrics for Ma Ladeko Matra Hoon:
Ma Ladeko Matra Huu
Ma Ladeko Matra Huu
Ma thakeko matra huuu
Ma Ladeko Matra Huu
Mare ko chaena
Ma thakeko matra huuu
Hare ko chaena
Mero mamata lai kamjhori
Na maana
Mero mamata lai kamjhori
Na maana
Sahansilta lai anyartha
Na thana
Ma Ladeko Matra Huu
Mare ko chaena……..

Shanta chhu tesma timi
Buddha lai dhekha

Shanta chhu tesma timi
Buddha lai dhekha
Tara feri timi mero
Tauko ma na teka
Bhairav bannu parne
Gari malae na uskau
Bhairav bannu parne
Gari malae na uskau
bharu afu bitra ko
Chetana lai uthau
Chetana lai uthau
Ma… maa…………

Jhuto asha fijhayera
Na hala hai balchi

Jhuto asha fijhayera
Na hala hai balchi
Ghari ghari mero chatti
Ma Yestari kulchhi
Kun khel ho jun timi
Yaha rachana khojhadai chhau
Hareko chaena koe timi
Jita sochadai chhau
Hareko chaena koe timi
Jita sochadai chhau
Ma… maa………………